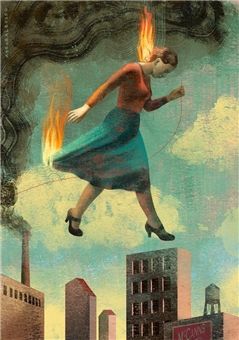 I'm
over at Lady Business
again today, this time with a discussion of Veronica Schanoes' Shirley Jackson Award winning novella
"Burning Girls"
. I fell in love with Schanoes' writing almost a decade ago, when I came across her short story "How to Bring Someone Back From the Dead" at the now defunct Endicott Studio, so of course that when Tor.com published "Burning Girls" I was all over it.
"Burning Girls", which is also gorgeously written, combines history, fairy tales, Jewish myth and magic, feminism, and the lives of early twentieth-century immigrant women in America in one heart-destroying novella. My discussion with Jodie does have spoilers, so I'd recommend that you read the story first — which couldn't be easier, as it's still
available for free online
.