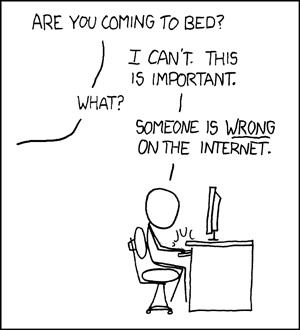 From XKCD
The incentive for today's post was an e-mail a reader of this blog sent me recently, about something I wrote in the past but no longer stand by. (I would tell you what, but I don't want that to draw attention away from the wider points I'm hoping to make.) Because I'm only human, my first reaction to being so spectacularly wrong was absolute mortification. But this small incident also got me thinking about how this kind of thing becomes inevitable when so much of what has occupied my mind over the past five years is publicly available on the Internet.
I confess I generally avoid reading through my archives, mostly because a couple of hours is how long it takes for a post to make the full transition from something I'm willing to share with the world to something that makes me cringe. But when I do read old posts, I notice more and more that I disagree with my past self. This is only natural, especially because this blog has accompanied my transition from my early to mid to now late (eep) twenties, and for many people that's a time of considerable change. Not that I expect change to be absent from the rest of my life, of course.

Although this is primarily a book blog, what I'm thinking about here isn't really changing my mind about certain books. If I happen to revisit a book I once loved and find that I now hate it, the newer reading experience doesn't erase the old one, nor does it make me feel that I was wrong to have loved the book in the past. The fact that the book worked for me at one point in the past remains real, and it's a good reminder that it will still work for other readers or even for me again at some point in the future. My reading taste will keep on changing throughout my life, but I don't think of this in terms of being right or wrong.

What occasionally does worry me are all the other things that inevitably come up in the process of talking about books. A book review is seldom only about the book in question – it's also a piece of writing that requires the reader to engage with and position him or herself before a number of themes and ideas. In the process of doing this, I have often betrayed my ignorance, said thoughtless or insensitive things, been hasty or unfair, and so on and so forth. The existence of this blog means that anyone can access an old post of mine and think that it's an accurate and up-to-date reflection of my thinking – which is a scary thing.

Keeping a blog for a long period of time often amounts to making your personal, emotional, and intellectual growth public, and this can be a pretty terrifying process. We all have a tendency to revise our memories; to internally edit them in ways that make them more harmonious with our current selves. However, a public blog doesn't leave much room for that at all. All the wrongheaded things I've said over the past five years remain visible, both to myself and to others. And the same will be true of all the wrongheaded things I'll no doubt carry on saying for as long as I do this. There's no stopping the fact that I'll carry on being wrong on the internet – there's only accepting it and trying not to feel too threatened by it.

To me, the bright side of this is the fact that this kind of vulnerability humanises us all. It can be difficult to handle, especially if you're an insecure reader, but hopefully it also draws attention to the fact that we all have gaps in our knowledge, we're none of us unfailingly wise, and we all occasionally make fools of ourselves in public. More often than not, I can't help but worry about what others will think of me when I'm the one being publicly wrong – my first reaction is usually to regret that I ever spoke at all. But lately I've been trying not to let that instinctive shame overshadow the fact that in speaking and being shown I was wrong, I have gained something precious. When I see others in that position, after all, I don't lose any respect for them – especially if they treat such situations as opportunities for growth.

Still, we often assume that the people we admire must have sprouted into being fully made, with no need to go through a painful and sometimes embarrassing process of change. But this assumption is neither fair to them nor to us. Watching one another go through this kind of process gives us all strength, and I suspect it also helps us become braver, more daring readers and thinkers. The fear of being wrong can be paralysing – it's often what confines people to safe choices and to strictly harmless opinions. If we stick to what we know, we're less likely to say anything foolish. But we're also less likely to ever change or grow as readers and as people. I want to keep growing and learning, and that involves being willing to be publicly wrong.

How about you? Do you feel comfortable with the existence of a public record of your past selves, even if you happen to disagree with them? Have you ever come across an old blog post that makes you cringe with embarrassment? Is this something you ever think or worry about?