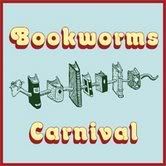 The whole thing about myths, is that they need to stay fluid, they need to keep moving, and they need to be dynamic. And that's why we can go on retelling them, so that what is valuable is passed on from generation to generation, across time, through cultures.

Welcome to the 43rd Edition of the
Bookworms Carnival
! This edition's theme is
mythology
, and I have posts to share about myths retold, about books that make use of mythic elements, about primary mythological sources, about non-fiction books on mythology, about why myths still matter, and so on:
Gaskella
shares her thoughts on
Here Lies Arthur
by Philip Reeves
, a Carnegie Medal winner that approaches Arthurian Myth from a completely new angle:
Reeve's book for teens presents a totally different take on the stories that is highly original, and uses the Welsh Mabinogion as the basis for the tale rather than Mallory or any of the later romances. What's more this interpretation of the story could so easily be the real thing!
Anastasia at Birdbrain(ed) Book Blog
very much enjoyed
Kevin Crossley-Holland's Arthur Triology
: "
If you have any interest at all in the Arthurian legend or historical fiction,
get these books.
I've been shoving them onto all my other medieval studies friends and I'd love to be able to squeal about them with you, too!
Gavin at Page247
reviews
Lavinia
by Ursula K. Le Guin
, a retelling of the
Aeneid
from a female perspective:
Out of myth Ursula K. Le Guin has created the voice of a women who had no voice. Based on the last five books of Virgil's unfinished epic, The Aeneid, Lavinia is the story of a character barely mentioned in the original poem.
Nicole, Raych, Mee and Mel all read
The Penelopiad
by Margaret Atwood
, another retelling of a myth from a female perspective.
For Mel
, this book "
...shows Penelope growing from a totally helpless 15 year old to a woman of 35 with many capabilities
", while
Nicole thinks
that "...
unfortunately Penelope got lost in the retellings of other people's stories. Her story is everyone else's story but her own, and I considered given this is Atwood the commentary that she is making on women's lives and how they make their choices.
"
Raych wasn't a big fan
of
The Penelopiad
: "
Atwood's whole retelling is clumsy and obvious. She gives carefully-manufactured winks to various Odyssey-tropes, and then feels she has to explain them to you several times to make sure you get how clever she's being.
"
And finally,
Mee was also a little let down
:
"The book started strong for me. I thought, great, this is exactly my kind of book! Mythology (fairy tale, or folktale) with a twist, or variation of it. After a while though, I got a bit bored. Penelope in the book is just exactly what I imagined her to be, so are most of the other characters, so I didn't experience any new revelations or surprises."
Lenore at Presenting Lenore
tells us about
Radiant Darkness
by Emily Whitman
, a YA retelling of the myth of Hades and Persephone:
"This was a very clever and thoughtful spin on the Persephone myth, which even offers up a touching subplot involving a young mother Persephone meets in the underworld and her undying love for the daughter she left behind.
And since we're talking about myths retold from the point of view of female characters that are relegated to secondary roles in the original, we can't leave out
The Mists of Avalon
by Marion Zimmer Bradley
.
For Chris
,
..."The religious struggle between the old ways and Christianity is a major theme in Mists. It seems to me it came down to a power struggle and not really about the spiritual well-being of Britons. The old religion wanted women to hold the power, and Christianity wanted them not only to have none, but be ashamed of being women. (I've always had a problem with that.)
"

Still on Arthurian Myth, Shanra at Libri Touches read Twilight of Avalon

by Anna Elliott

, a retelling of the myth of Tristan and Isolde: "... Obviously, anyone interested in Arthurian legend and retellings of the Tristan legend are heartily recommended this book. Unless they're the kind that like their retellings with a touch more realism. They might want to stay away. Beyond that… It is a gorgeous, gorgeous tale and I'd heartily recommend to anyone who wants a damned good story. "

Teresa at Shelf Love writes about Ice Land by Betsy Tobin, a novel based on the Nordic pantheon: "Tobin tells an old story in a way that feels fresh. I can't speak to her faithfulness to the original tales, but I can say that her retelling piqued my interest in the originals, which is certainly a good thing."

Finally, Bart at Bart's Bookshelf tells us about

Jane Yolen's

Young Merlin Trilogy

,

a reimagining of the great wizard's childhood: "Aimed primarily at the 8-12 market there is enough about the books that they will probably appeal to the adult reader as well. The books are extremely slim (as I said, around 90 pages a piece) so they are more glimpse into the story than a fully fledged epic. Each an simple sketch into the boy who would become the most famous wizard ever."

The following are reviews of books that, while not being retellings of any particular myths, incorporate elements from several mythological traditions. First of all, we have

The Dreaming Place

by Charles de Lint

, which makes use of Native American myths and legends. Stephanie tells us that this book "...just didn't have the flare some of his other works do. Not that it's a bad book/story, because it's not. The idea behind it is really interesting. And I loved the Shamen Bones and his description of the Otherworld. I also liked the folklore and mythology behind the manitous. Maybe I just expected too much from this little book. "

Shona reviews Percy Jackson and the Olympians, a series that places the Greek Gods in the 21st century. Shona says, "Rick Riordan does a good job at giving us all the necessary material to fit in to the jig saw puzzle. So what are we waiting for ? Let the War begin....

Robin at A Fondness for Reading wrote about one of my all-time favourite mythic books:

Dream Angus

by Alexander McCall Smith

: "Alexander McCall Smith is a wonderful storyteller, and in this book he took the traditional story (there's even a traditional Scottish lullaby about Angus), and explored the myth in modern settings."

At Estella's Revenge, Jodie from Book Gazing writes about another book from the Canongate Myth Series: Girl Meets Boy by Ali Smith: "The story incorporates the feeling of a written myth in the poetic retelling of the original Iphis myth and the magical description of a fantasy wedding ceremony where gods mix with mortals."

Time to visit West Africa and the Caribbean Islands: Trisha at Eclectic/Eccentric tells us about Anansi Boys

by Neil Gaiman

, a book that explores the way in which stories are a fundamental part of what makes us human: "find the idea of stories directing human thought and behavior fascinating. I teach literature and film, which are primarily aimed at understanding how ideologies are communicated through print and visual media - in other words, how stories shape humanity."

And since we're talking about Neil Gaiman, Chris at Stuff as Dreams are Made On re-reads the first book in the highly mythical Sandman

series

: "I had forgotten just how much I love this series. I hadn't forgotten that I loved it, but just how much is what was lost. Mind you, this is probably my least favorite book in the series, but it still brought back floods of memories meeting Dream and Death for the first time again and recalling how wonderful that feeling was when I first discovered The Sandman.

And Kay at Kay's Bookshelf shares her thoughts on American Gods: "I have also found very interesting the way the author has chosen to represent the gods: born in people's minds and brought from their native places to America carried in the stories the immigrants told, the American gods are in a way copies of their original selves."

Moving away from Mr Gaiman, Jackie at Literary Escapism tells us about Wild Hunt by L. Devoti: "If you're familiar with the fae and other mythos about the sidhe, then you've probably have heard the term "the wild hunt" before. Both Laurell K Hamilton (the Meredith Gentry series – Lord Sholto) and Eileen Wilks (her novella featuring Kai and Nathan that I can't think of the name right now) have made references to it, but there really isn't any novels based around the Wild Hunt and it's characters. In addition to that, the heroine is part Valkyrie and that's another new area for me. I love reading mythologies and the various takes many authors take on them, so finding this novel was actually fun."

Like Shona, Amanda at The Zen Leaf tells us about Rick Riordan's Olympians series. Her review of The Last Olympian was written in collaboration with her son Morrigan: "Amanda: This book was on par with The Battle of the Labyrinth (book 4). It was better than #2-3, but not quite as good as the first one. (...) Morrigan: It wasn't as good as the other ones, because it was repetitive. It just had them destroying monsters over and over again and that got boring."

Florinda at The 3 R's Blog read Gods Behaving Badly by Marie Phillips, a book that, like the aforementioned Rick Riordan series, imagines what the Greek Gods would be up to today: "I'm a little weak on my Greek mythology, but Marie Phillips seems to have a good grasp of it, and she makes clever use of it in a very modern setting. The writing is sharp and witty, and the mortal characters in particular are quite likeable."

Last but not least, Chelle at Tempting Persephone reviews Metamorphosis: Junior Year by Betsy Franco, a YA book focused on the life and work of the Roman poet Ovid: "I could have pulled several quotes from this book, random lines that would have really spoken to my teenage self and ones that tugged at me now, but I really like that one above. I like that it keeps to the idea of reshaping mythology to suit contemporary problems and issues."

At 5-Squared, Jason shares his thoughts on the old Nordic Volsungasaga: "Holy freakin' crap. Vikings? They were Messed. Up. People. Not kidding even a little. Messed Up." (And it gets better!)

Gricel at Things She Read writes about "Cupid and Psyche", which happens to be my very favourite myth: "Like the story of Eve and the apple, you can read Psyche's transgression in several ways. I choose to read it as Psyche's desire to know. It's a very powerful notion, to think of Psyche challenging Cupid's mandate and taking control of the situation."

Heather J. has the following to say about Homer's The Iliad: "I truly enjoyed listening to this one. It was huge and epic and amazing. At times, especially in the extended battle scenes, my mind wandered a bit but my attention was always drawn back when the characters I loved came on scene."

And Aarti tells us why the Indian epic The Mahabharata is worth reading: ...the Mahabharata remains a rolicking good story no matter your religion. I highly recommend the read, and I liked Menon's take on it".

Teresa at Read All Over reviews The Red-Haired Girl From the Bog by Patricia Monaghan, which chronicles the author's return as an adult to her native Ireland: "She leads us on a journey of the Irish countryside and to many of the places overlooked by those of seeking a Celtic path. We are introduced to sacred pools, hills, dolmens, wells, caves and more all of which house their own tales of days long past. Patricia also does an incredible job of reclaiming the meaning of the ancient Irish agricultural festivals, as well as those introduced today in Ireland."

J.T. Oldfield at Bibliofreak Blog is very enthusiastic about Joseph Campbell's Myths to Live By:"Oh Joseph Campbell, how I love you. If you weren't dead, I would find you and stalk you until you married me. I want to live inside your head. No other one scholar has influenced me like you have. It was your work which inspired me to major in Comparative Religion, possibly the most useless of all liberal arts degrees (except maybe Art History), and I have never really regretted it.". How could I not want to read this book after this?

And Nymeth at things mean a lot (Me! Here!) writes about A Short History of Myth by Karen Armstrong, which was overall interesting but very disappointing in its lack of rigour: "The one problem I had with the book was the fact that Karen Armstrong sometimes makes categorical affirmations about things that can only be speculation."

Masha shares "Owl and Goose" by Caroline Leaf, a stunning stop-motion animation based on an Inuit myth: "As told in this interview she worked with Agnes Nanogak, an Inuit artist who created the animal silhouettes necessary for sand animation."

Paolo at Rocket Kapre tells us about Treasury of Stories, a collection of Filipino Myths: "...when I grew older, I discovered that our myths and legends were more varied and interesting than I'd surmised from the sanitized, committee-approved versions of the old tales that were fed to school children. However, actually finding these stories, or at least those not studied in schools, can be difficult given that most of these tales form part of our oral, not written, tradition. Fortunately, there do exist quality compendiums of stories that shine a spotlight on lesser known tales, and the "Treasury of Stories" from Anvil Publishing is both one of the broadest in scope, and one of the most accessible to an English speaking audience." I absolutely need to read this!

Finally, Cara at Ooh Books invited J.T. Oldfield to write a guest post about why myths still matter: "Myths are stories, yes, but they're more than that. They're what define our culture, our abstractions, our ideals and yes, our very selves. And that's why they're as important now as they ever were." The post also includes a giveaway of two fantastic sounding mythic books.


Over the centuries we have transformed the ancient myths and folk tales and made them into the fabric of our lives. Consciously and unconsciously we weave the narratives of myth and folk tale into our daily existence.


Jack Zipes
A sincere thank you to those who participated! Also, and as promised, the winner of the Bribery is Awesome giveaway is: Shona - congratulations! Shona gets to pick one of the books reviewed for the Carnival. E-mail me your choice and your mailing address and I'll send it your away as soon as possible.

The next edition of the Bookworms Carnival will be hosted by the awesome Jodie at Book Gazing, and the theme is one I wish I'd thought of: rebellious women. You have until Christmas Day to e-mail Jodie your submissions.