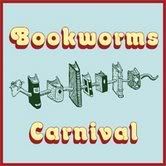 I'll be forever grateful to Anastasia at
Bird Brain(ed) Book Blog
, who reminded me the other day that I'm scheduled to host the 43rd edition of the
Bookworms Carnival
. The Bookworms Carnival was one of Dewey's many contributions to the book blogging community, so it means a lot to me that it's still around.
I'll be accepting submissions until the
11th of December
, and hope to have the Carnival itself up on Sunday the 13th. And what's the theme, you ask? It's
mythology
, and here are a few examples of what I'm looking for:
Art by Arthur Rackham
Retellings:
Any book from the Canongate Myth Series (Girl Meets Boy by Ali Smith, Dream Angus by Alexander McCall Smith, The Penelopiad by Margaret Atwood, etc.)
Any reworking of Arthurian Myth (The Mists of Avalon by Marian Zimmer Bradley, The Once and Future King by T.H. White, Here Lies Arthur by Philip Reeves, etc.)
Any retelling of Classic, Egyptian, Nordic, Native American, Japanese, Korean, you name it myths (A few more examples: The Firebrand by Marion Zimmer Bradley, Lavinia by Ursula Le Guin, Green Grass, Running Water by Thomas King, etc.)

Books based on mythology:
Books that, while not retellings of any particular story, incorporate mythological elements. For example, The Sandman series,
American Gods
or
Odd and the Frost Giants
by Neil Gaiman, the
Percy Jackson
series by Rick Riordan,
Monkey Beach
by Eden Robinson,
The Long Dark Tea-Time of the Soul
by Douglas Adams, etc.
Original Sources:

Have you read and reviewed The Odyssey, The Iliad, Gilgamesh, a Nordic saga, etc.? I'd very much welcome your post.

Collections:
Any collection of myths from anywhere in the world would be perfect!

Non-Fiction:
Have you reviewed books by Joseph Campbell, Karen Armstrong, etc? I'd love to be able to include your post.

Poetry, Comics, TV, film, illustrations, etc:
Other formats/media would also be very much appreciated. I'd love to see a post on Ovid's Metamorphosis, for example, or any other mythic poetry. As for comics, I've already mentioned the Sandman series, but there's also

Thor

by J. Michael Straczynski, Lucifer by Mike Carey, Promethea by Alan Moore, and plenty of others that make wide use of mythology.

As for film or TV, I know this is the Bookworms Carnival, but we're all bookworms by definition, and a post about something else would add some nice variety. So if you want to submit a post on a movie, or on the Merlin series, for example, please go ahead!

Mini-FAQ

Do I have to read a book specifically for the Carnival? Nope!
So I could submit an older post? Yes, older posts are perfectly fine. The Carnival should bring some new readers to your blog, so the post will be new to them anyway.
What do I have to do again?

Just e-mail me your submission and I'll take care of the rest.
And then? Then on the 13th of December you drop by for a big mythology lovefest.

I hosted an edition of the Carnival before, in June 2008, and the theme was fairy tales. If you've never participated before, you can click the link for an example of what an edition of the carnival looks like.

And because bribery is awesome, I will, as I did back then, draw a name from among those who submit a post, and the winner gets to pick one of the books reviewed or discussed in the carnival. So please e-mail me at untuneric at gmail dot com with your submission!