Hello everyone. How was your reading week? I'm very, very pleased: I read three five-star novels in a row.
Old Man's War
by John Scalzi, followed by
The Love We Share Without Knowing
by Christopher Barzak, followed by
Tender Morsels
by Margo Lanagan. All were of course great, but I must say that
Tender Morsels
is the most five-star of them all. In fact, it my view it's a seven stars out of five type a book. Anyway, I'll be posting about these next week, so I guess it'll be Rave Reviews Week.
This week also marked the beginning of my Adventures in the Land of Manga. I posted about the first 3 volumes in the Death Note series
here.
I have since also read volumes 4 and 5. I don't think I'll post about them, though, because I don't have much to say that I didn't already say about the first three books. Not that the series is repetitive. Far from that. The plot keeps twisting and turning, new characters are introduced, and my interest hasn't waned at all.
I have a question for you: have you ever shied away from a potential new interest because you don't think you can afford the commitment, time-wise? And if so, does it make you as sad as it does me? So much to love, so little time.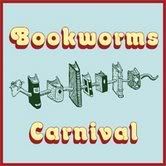 Two announcements: First, the 23rd Edition of the Bookworms Carnival is
up at The Bluestocking Society
. The theme is Literature and Film, and Jessica is asking readers to answer this question:
Do you prefer to read the book first or see the movie first?

I'm a book first type of person. I like the slower pace of books. If the story has some kind of twist or surprising revelation, for example, I find it easier to enjoy the foreshadowing and the surprise in a book. For obvious reasons, things happen much faster in movies. Also, if I watch the movie first I tend to get the faces of the actors stuck in my head while reading, and I hate that. The downside is that reading the book first can ruin the movie for me (I know that ideally they should be kept separate, but I have trouble doing that), and I can't remember the opposite ever happening.

Inspired by this edition of the Carnival, I decided to list my top five book-to-movie adaptations:

The Virgin Suicides

- Hands down my absolute favourite. Everything about it is perfect. Sofia Coppola captured the mood of the book so well. Even the light was just the way I'd imagined it.


Big Fish

- I love this one for completely different reasons. It's not a faithful adaptation by any means. In fact, a lot was added to the story. But everything that was added feels right, and fits the spirit of the book very well. In this case, I actually watched the movie first, and for a while I liked it better than the book. But on a second read, I grew to love the book just as much.


Lord of the Rings

- Yes, changes were made. Yes, things were left out. But these movies were made by people who truly love the world Tolkien created, and it shows.


Adaptation

- Charlie Kaufman is one of my absolute favourite writers. He took Susan Orleans' book

The Orchid Thief

and turned it into something completely different - into something that is also about the process of adapting a book into a movie in itself, among many other things. And it works.


The Company of Wolves

- a Neil Jordan movie adapted from a short story by Angela Carter. Angela Carter wrote the script itself, and I guess that's part of the reason why this movie captures the feel of her work so perfectly. The darkness, the sensuality, the fairy tale forest and all the things that it hides, as well as those it reveals. I love it.
What about you? What are your favourite book to movie adaptations?


Second and last announcement: Tracy at Book Room Reviews is hosting a Book Giveaway Carnival on the first week of March. I've been quite lucky with giveaways lately, and I can't tell those bloggers who are kind enough to send me books overseas how grateful I am. I know how costly international shipping can be, and I'm so grateful that they open their giveaways worldwide anyway. Some of those are books I would have trouble getting otherwise, but thanks to their generosity I get to read them. So I want to take this opportunity to give back to the community. I haven't decided which book I'll be given away yet, but I'll let you know soon!

Happy Sunday, everyone.