This week's
task is to answer the following questions:
For those who have been with the group, either from the start or joined within recent months, what does being a member mean to you? What do you enjoy about the group? What are some of your more memorable Weekly Geeks that we might could do again? What could be improved as we continue the legacy that Dewey gave us?

For those just joining us, why did you sign up for Weekly Geeks? What would you like to see here?
The initial reason why I was interested in Weekly Geeks was because, well, it was Dewey's idea. I wanted to give her my support, and plus I knew that with her behind it there's no way it wouldn't be fun. As the weeks went by I grew to really love the tasks themselves, even if I didn't always get around to participating. They were fun, varied, thoughtful and original.
What I like the most about Weekly Geeks is how inclusive it is. New members can join at any point and they are immediately welcomed. It gives us all an excuse to reach out, meet new people, interact with one another, make new friends. And for those who can be shy about commenting on new blogs, Weekly Geeks makes things easier.
Some of my favourite past themes were:

As for ways of improving WG, I honestly can't think of anything. Keep it up, guys.

---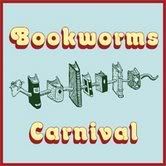 Also, the 21st edition of the Bookworms Carnival is up at YA Fabulous. The theme is glbtq literature, and you can read some very enticing reviews, both of adult and of YA books. Renay also provided a fabulous list of links for those interested in learning more about glbtq literature.