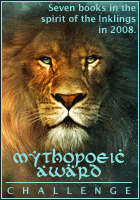 I completed my last two 2008 challenges: The Booker and the Mythopoeic Award Challenges.
Books Read:

Booker Challenge
Mythopoeic ChallengeFavourites:
For the Booker Challenge, it was
The Blind Assassin
, closely followed by
Midnight's Children
. I enjoyed them all, though. For the Mythopoeic Challenge, if we don't coun
t Anansi Boys
because it was a re-read, it was
Tamsin
, or
Thomas the Rhymer
, or possibly
Little, Big
. But I also really loved
The Wood Wife
, and
Summerland
and
The Young Merlin Trilogy
. So yeah, you get the idea. I loved them all, and I can't wait for the much discussed Mythopoeic Project to become official.
I want to thank Foxywriter again for hosting the Mythopoeic Challenge. I had a lot of fun with it. The Booker Challenge was hosted by Dewey. I remember considering quitting it at some point in November. I still had two books to read and they were fairly chunky ones, plus I just wasn't in the mood to read them in the holiday season. But after she passed away, I kind of wanted to finish it as my own small tribute to her. I know she wouldn't have minded if I didn't finish, and that she had even dechallenged herself...but it still mattered to me. And I'm glad I did finish it, because those two last books were remarkable ones. And who knows when I'd have picked them up otherwise.

That's it for me when it comes to 2008 challenges. I still have the New Classics Challenge to finish in January, but there's only one book to go, and it's one I'll get to very soon -

Watchmen

. In fact, I have the feeling there's a copy waiting for me under the Christmas tree. Could that be because it's my present to myself? Perhaps, perhaps. The Japanese Literature Challenge also ends in January, and I'd like to read at least one more book for it. But there's time after the holidays.

I think I'm going to celebrate by starting to work on my huge Challenges for 2009 post.


---

Kailana and Melody tagged me for this Christmas Spirit Meme/Award. The rules say we have to list at least five things we love about Christmas, and then pass it on to other people. I've kind of lost track of who has been tagged already, though, so feel free to grab it if you want to. Here are my five things:

Sufjan Stevens' Songs for Christmas. I guess I could make this more general and say Christmas music in general, but I want to highlight how much these songs in particular have done to increase my enjoyment of Christmas in recent years. They're fun, goofy, moving, serious, bittersweet and downright sad: filled with every emotion Christmas can inspire.
Christmas trees! When the world is naked and dark, they are green and full of light, and looking at them always makes me happy.

Presents. Who doesn't love them? Picking the right gift for the right person, being surprised by family and friends, seeing your gifts under the tree and trying to guess what's inside...I love it.

Cinnamon! I love all the fact that almost every Portuguese Christmas recipe involves cinnamon. If you ask me, you can never have too much cinnamon, so I'll welcome any excuse to sprinkle it over everything I'm eating. Okay, so maybe not the main dish. But every Christmas drink and dessert for sure.

The cosiness. This is a big part of what Christmas means to me. Being warm and cosy inside when the world is cold and dark. And human warmth is of course a big part of this. Sometimes I hear people say that we shouldn't need an excuse like Christmas to finally call that person we haven't talked to in months or even years, to be a little nicer, to show others what they mean to us. And fair enough, but sometimes it's nice to have one anyway.
And now for something a little different: Merry Christmas from Cthulhu!