Yes, I know what I'd said about cutting back. And since you've heard all the "buts" before, I'm going to spare you those too. Let's just agree that I'm a challenge addict and get it over with. Here it goes: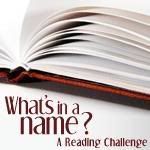 First of all, I'm joining
Annie's What's in a Name Challenge
again. I had too much fun with it this year to even consider resisting. Though I'm going to try and avoid rigid lists for this year's challenges, I did make a list for this one. First because finding a book for each category is half the fun, and secondly because these are all books from my tbr pile and I'd like an excuse to get to them.
1. A book with a "profession" in its title:
Captain Corelli's Mandolin
by Louis De Bernieres
2. A book with a "time of day" in its title:
Tom's Midnight Garden
by Philippa Pearce
3. A book with a "relative" in its title:
Son of a Witch
by Gregory Maguire
4. A book with a "body part" in its title:
White Teeth
by Zadie Smith
5. A book with a "building" in its title:
Hotel du Lac
by Anita Brookner
6. A book with a "medical condition" in its title:
The Amnesiac
by Sam Taylor
And since we're speaking of tbr piles, now is the time to tell you that I'm also joining the
tbr lite challenge
. I'm doing option B: "read 6 books in 12 months ~ you CAN change you reading list throughout the year." The books on my list are all ones I'm really looking forward to reading, so I don't think actually I'll have trouble sticking to it. But I want to leave that possibility open anyway. My list:
Fudoki by Kij Johnson
Girlfriend in a Coma by Douglas Coupland
How to be Good by Nick Hornby
Geek Love by Katherine Dunn
The Owl Service by Alan Garner
The Red Tent by Anita Diamant
I'm also joining the
Dewey's Books challenge
that
Chris
and
Robin
are hosting. I'm doing option 2, which is read 5 books Dewey reviewed - though I have no doubt I could easily read many more. I've lost count of the books I got or added to my wishlist because of Dewey's reviews. I'm not going to make a list for this one, but just in case you're wondering, some of the titles I'm considering are:

How I Live Now by Meg Rosoff
The Tale of One Bad Rat by Bryan Talbot
Black Hole by Charles Burns
We Are on Our Own by Miriam Katin
The Adoration of Jenna Fox by Mary Pearson
Thirteen Reasons Why by Jay Asher
The Misfits by James Howe
Just Listen by Sarah Dessen
Story of a Girl by Sara Zarr


Freak Show

by James St James
The Uncommon Reader by Alan Bennett
Purple Hibiscus by Chimimanda Ngozi Adichie
The Invention of Hugo Cabret by Brian Selznick
The Lost Years of Merlin by T.A. Barron


Kockroach

by Tyler Knox (one of the last comments Dewey left me was recommending this book to me)

And I could go on.


Next there's the Lambda Award Challenge, hosted at Adventures in Reading. This is a very flexible challenge. There's no time limit, and you decide how many books to read. I officially joined a couple of months ago, but I decided to only actually start reading in 2009. I'm going to read 4 books:


The Dust of Wonderland by Lee Thomas (2007 Sci-fi/Fantasy/Horror winner)

Fingersmith by Sarah Waters (2002 Lesbian Fiction winner)

Swimming in the Monsoon Sea by Shyam Selvadurai (2005 Children's/YA winner)

Hero by Perry Moore (2007 Children's/YA winner)
I'd love to get to one of the last two in time for the 21st Bookworms Carnival, which will be on gay, lesbian, bisexual, transgender and questioning literature and promises to be awesome. But since I still have to order my copies that's not very likely to happen.


I am also joining the Support Your Local Library Challenge. I'm doing option 1, which is to read 12 library books in 2009. I'd go for 25, but I'm not sure what my library access situation is going to be after June, and since you can't adjust your level of participation as you go along, I'd rather not risk it. Plus, I have a tbr pile to focus on anyway.



Then there's Rhinoa's Manga Challenge. I'm not making a list for this one either, the reason being the fact that I know next to nothing about Manga. Recommendations are of course appreciated.

Speaking of Rhinoa, we're going our mutual challenge again this year, and here are the books she picked for me to read:

Piece by Piece by Tori Amos
Here, There be Dragons by James A Owen
Death Note v1 by Tsugumi Ohba and Takeshi Obata
Moon Called by Patricia Briggs
The Witches by Roald Dahl
All are books I'm really looking forward to reading. I already picked my five books for her too, but I'll let you find out what they are at her blog.



The World Citizen Challenge (almost done, I promise!) is a non-fiction challenge focusing on international affairs. I'm doing the Minor Level: "For this level, you need to commit to three books, from at least two different categories".

The categories that interest me the most are History, Culture or Anthropology/Sociology and Worldwide Issues. I'm not sure what to read yet, but there are a few books I'm considering: King Leopold's Ghost and Bullwhip Days: The Slaves Remember: An Oral History, which are both history, and 50 Reasons to Buy Fair Trade by Miles Litvinoff and John Madeley, which I guess is Worldwide Issues. I just remembered I could use Autobiography/Memoir too and read My Invented Country by Isabel Allende or Living to Tell the Tale by Gabriel Garcia Marquez, both of which are in my tbr pile. We'll see.


And finally (phew!) I'm doing the Graphic Novels Challenge, which is being continued by Laza. I'm committing to reading 24 comics in 2009. I'd rather keep my possibilities open for now, but I'll tell you what I'm considering:

More Fables (of course)
The Eternals, 1602 and Violent Cases by Neil Gaiman (it's really about time I catch up with my favourite author)
The second Mouse Guard book, which will hopefully come out in 2009.
More Will Eisner
More Alan Moore
Trese volume 2
Bone by Jeff Smith
Blankets by Craig Thompson
Chicken with Plums by Marjane Satrapi
Heartbreak Soup by by Gilbert Hernandez

And we'll see what else. The only problem is that I can't get comics from the library here, so I have to buy every one I read. But hey, I got some for Christmas and maybe I'll get some for my birthday too. Plus I can also count whatever I read for the Manga Challenge. And who knows, maybe 2009 will be the year when libraries here will realise that comics are books too.