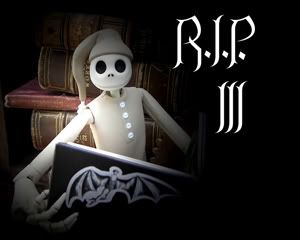 For this year's R.I.P Challenge, I read a mix of books from my
original Peril Pool
and books I found along the way, often thanks
to
other
blogger's
reviews. My favourite reads were definitely
The Graveyard Book
,
A Fine and Private Place
and
Lonely Werewolf Girl
. All three are among my favourite reads of the year so far. In fact, they are all new additions to my all time favourites.
But I also loved
Rebecca
,
We Have Always Lived in the Castle
,
The Vampyre
,
The Black Jewels Trilogy
,
Northanger Abbey
, and let me stop now before I end up naming all the books on my list :P Though some had their flaws, there wasn't a single one that wasn't worth reading. I also really enjoyed the sense of community that
Carl's
challenges always create. I'm already looking forward to RIP IV!
To those of you in parts of the world where it is celebrated, I wish you a very happy Halloween!
---
Now a few links: you might remember that some time ago I (as well as several other bloggers) posted about
FieldReport
, a website where aspiring writers can post their non-fiction work and get feedback, and possibly some very generous money prizes. Well, the deadline to qualify for the $250,000 grandprize is almost here - it's the 15th of November. There is also a $25,000 TeenReport prize, so if you know any teens who enjoy writing, be sure to let them know.
Still on Fieldreport, I enjoyed this
Guardian article
about them.
And still on the Guardian, I loved
this review
of
A Canticle For Leibowitz
. I haven't read the book (though I'm quite curious now), but what Sam Jordison says about how most of the Respectable Critics who praised
The Road
were eager to deny it had anything to do with a sci-fi tradition is so true. And he says it so well.
Finally, I've been a follower of the webcomic Questionable Content for years, but after
this
I love it even more :D