Faerie Tale: A Novel of Terror and Fantasy
tells the story of the Hastings family, who move from California to an old farm house in the state of New York, a property known as Earl King Hill. Gloria Hastings is Irish, as is Barney Doyle, their neighbour and friend Aggie's handyman. But when strange things begin to happen in the woods behind the house, Gloria, unlike Barney, doesn't immediately acknowledge the familiarity of what she's seeing.
The story takes place between Midsummer and Halloween, and it's of course no coincidence that these are two relevant dates for the Good People.
Faerie Tale
takes the stuff of old Irish myths to America, and despite the contemporary setting, this is old, old lore. In a manner similar to that of writers like Susanna Clarke, Raymond E. Feist explores the dark, terrifying side of these myths. These are no cute faeries. These are strange and dark beings, terrible and glamorous and with power over us – sexual power, psychological power, emotional power. The power to lure us and the power to destroy us. Take this short description, for example:
The youth's laughter was high-pitched and musical. It was an alien sound, childlike and ancient, holding a hint of savage songs, primitive revelries and music-filled hot nights.
Faerie Tale
contains references to the Seelie and Unseelie courts, to Puck and Wayland Smith, to changelings and the Wild Hunt, to Thomas the Rhymer and to the Berkshire White Horse. Like I said in one of my read-a-thon posts, the mood of this book reminded me a little of
The Book of Lost Things
, of
American God
s and of the haunted woods descriptions in C.J. Cherryh's
Rusalka
.
One of the most interesting things about
Faerie Tale
is the fact that in some ways it's an exploration of the nature of fear. There were moments when the story really spooked me, and it wasn't so much what was happening as the accurate way Raymond E. Feist portrays fear. It wasn't what the characters were afraid of (though that's interesting in its own right), but how they experienced fear. Of course, the book has some very dark moments, like Gabrielle Hastings' encounter with a creature that almost rapes her, or eight-year-old Sean Hastings' quest to save his twin brother Patrick.

I really enjoyed Faerie Tale, but unfortunately the ending was a bit of a let down. I think Feist overexplained things. This book is not a mystery, it's not the kind of book where you have to have every detail explained and accounted for. But sadly in some ways this was just what was done. And it's not just that the explanation of faeries as "energy beings" sounds a bit too new-age for my taste. It's the fact that an explanation was given at all. Some things are meant to remain mysterious. Some questions are supposed to linger.

Still, all in all a very enjoyable read.



Other Blog Reviews:


Ginny's Books

(Let me know if I missed yours.)


---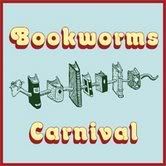 This month's edition of the Bookworms Carnival is up at Becky's Book Reviews. The theme is Literary Gothic, and you can read lots of reviews of spooky books, both classic and modern. So if you haven't yet, go visit Becky!