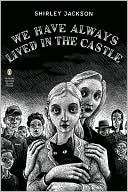 "My name is Mary Katherine Blackwood. I am eighteen years old, and I live with my sister Constance. I have often thought that with any luck at all I could have been born a werewolf, because the two middle fingers on both my hands are the same length, but I have had to be content with what I had. I dislike washing myself, and dogs, and noise. I like my sister Constance, and Richard Plantagenet, and Amanita phalloides, the death cup mushroom. Everyone else in my family is dead."
Merricat Blackwood lives with her sister, her uncle Julian, and her cat, Jonas. On Tuesday and Friday mornings she goes to the village to satisfy two essential needs – the need for food and the need for books. The villagers hate her, and they taunt her with a nursery rhyme. All we know at first is that the reason for this hatred has to do with something that happened six years before. And I'm not going to tell you much more, because, like
Eva said
, the less you know about this story when you start reading, the more enjoyable it is.
We Have Always Lived in the Castle
is a brilliant book. It's creepy and disturbing in all the right ways. I mean disturbing in the best possible sense, but also in a very real sense. The implications of the story are beyond sinister. Plus the way the story is constructed is masterful, and the writing is absolutely perfect.
This is a book where things are not what they seem. I wouldn't say it's a book with a twist, though, because the revelation is gradual, not sudden. Early on you realize that something is not quite right. Then you begin to suspect what it is. And when it's finally said out loud, you're not surprised, but everything gains a new and horrifying kind of meaning.
It's also a tragic story. A really sad story, particularly for one of the characters. Then there are others you regard with a mix of shock, horror and pity. But I can say no more. There's a lot more I'd be saying if I could discuss this book freely, but that would spoil all the fun. So read it and find out for yourself.
Oh, and if you happen to get the Penguin Deluxe edition (which you really should, because how amazing is that cover?) please make sure you skip the introduction at first – I did because I had the sneaking suspicion that it would contain spoilers. Then I returned to it at the end, and yep, it gives away the whole plot.

This is something that actually bothers me. I mean, I understand the need to discuss the plot freely when writing about this book – there really isn't much you can say otherwise – but in that case, why not make it an afterword instead of an introduction? No matter how old a book is, someone is going to be reading it for the first time. And I'm willing to bet that there have been people who bought this edition, read the introduction, and had the story completely spoiled for them. Or maybe I'm weird for thinking that introductions are supposed to be something you can safely read first.

Anyway, rant over. Shirley Jackson is brilliant and I must get my hands on a copy of

The Haunting of Hill House

.



Other Blog Reviews:


A Striped Armchair
Booknotes by Lisa
books i done read
Nothing of Importance
Care's Online Bookclub
The Bookling
Fizzy Thoughts
Book Addiction
Jenny's Books
Regular Ruminations
A Book Blog. Period.
Bending Bookshelves
Bold. Blue. Adventure.
Fizzy Thoughts
Book-a-holic
Save Ophelia
So Many Books
Stuck in a Book
Eclectic/Eccentric

(Did I miss yours?)