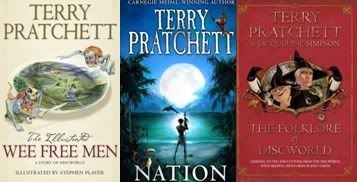 First, for Terry Pratchett fans:
a) How incredibly awesome is
this
? My favourite bit:
Just before he left he said '& I still aten't dead'.


I love him.
b) 10 days to go for
Nation
and
The Folklore of Discworld
! And I've just pre-ordered my copies! Excitement, excitement.
c) Am I the only one who had no idea that there was an illustrated edition of
The Wee Free Men
coming out? Have I mentioned how much I worship that book lately? According to Amazon,
it's a sumptuous, illustrated edition (...), packed with extra material, add-ons and special finishes.
What's this extra material they speak of? I must have this! Ahhhh! It's coming out in a month and a day. More excitement!
---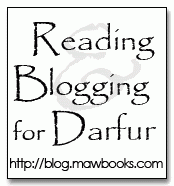 Natasha at Maw Books
is dedicating the month of September to reading and blogging for Dafur. There are several ways in which you can get involved, the simplest of which is to spread the word about this campaign. Natasha is also donating 10 cents for each comment she gets in September, so make sure you drop by. Click the button to find out more, and
click here
to watch a video of Natasha speaking about this campaign and asking for your help.