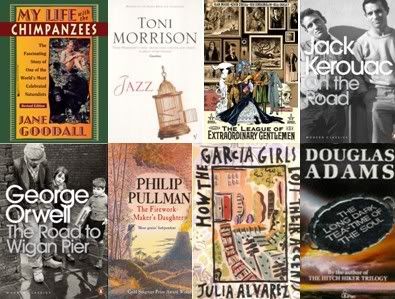 The Road to Wigan Pier

by George Orwell
Ken
asked:
I'd like to know your take on The Firework Maker's Daughter (how does it compare to His dark Materials?) and the Road to Wigan Pier (I took a class that used this for the textbook - it stirred some spirited discussion!)
I can definitely see
The Road to Wigan Pier
stirring a lot of discussion! I enjoyed this book a lot more than I thought I would. I loved what I'd read of Orwell's fiction, but I didn't know his non-fiction would also be this good.
The book is divided into two parts: the first describes the consequences of the Depression of the 1930's in Great Britain - the poverty, the unemployment, the appalling living and working conditions. I particularly liked the fact that he went beyond physical consequences and also described what having no work for years and years, no hope, no prospects, did to people's minds.
On the second part, Orwell suggests socialism as a solution for the situation he described. I had my doubts about this section, but I also ended up enjoying it a lot more than I thought I would. I could hardly imagine Orwell arguing for totalitarianism of any kind, and indeed that's not what he does. Instead, he explains how he came to develop his political views, and raises all sorts of interesting questions about how society is organized, and particularly about class prejudice.
So yeah, I thought it was a great book. Very readably, splendidly written, and still relevant today in many ways. If you've ever wondered what it was like to live through the Great Depression, this book will give you the answer.
The Firework Maker's Daughter

by Philip Pullman
I love Philip Pullman and I list him among my favourite authors, but I have to say that I didn't enjoy any of his other books half as much as
His Dark Materials
. But considering how much I love
His Dark Materials
, that doesn't actually say much. And so far, I also haven't come across a single book of his I haven't enjoyed.
The Firework Maker's Daughter
is the story of Lila, a young firemarker apprentice, and of her quest to get an important firework making ingredient, Royal Sulphur, from Razvani the Fire-Fiend. It's a book that made me smile countless times - a very sweet story, and a funny one as well. Sometimes I forget how funny Philip Pullman can be. It's a story about courage and talent and friendship and family, and it has an Arabian Nights-esque mood that I really liked.
Robin reviewed this book not too long ago,
so you can visit her to find out more.




The Long Dark Tea-Time

of the Soul by Douglas Adams

Terri B said:

I loved The Long Dark Tea-Time of the Soul! I plan on reading it again in future. It has been so long since reading it that I'm not coming up with any questions for you right away.



Susan asked:

Long Dark Tea-Time of the Soul: What did you like about it? Anything you didnt? Do you like what he did with detective and science fiction here?



I loved

The Long Dark Tea-Time of the Soul

, and I definitely like what Douglas Adams did with detectives and science fiction! And also the fact that mythology was added to the mix. This book features Thor, Odin and a visit to Valhalla. As with any Douglas Adams book, I loved the writing and the humour. Also, I was a bit surprised, because the book has a darker mood that some of his others. But not in a bad way. I can't think of anything I disliked about it, but I have to confess that I was expecting a bigger "a-ha!" when everything came together at the end. I really don't blame Adams' plotting, though. I think that the problem was that I got distracted along the way and didn't pick up all the clues. So I'll have to read it again one of these days to have the satisfaction of seeing everything fall into place.



How the Garcia Girls Lost Their Accents

by Julia Alvarez

Trish said:

How the Garcia Girls Lost Their Accents!! I don't have any specific questions, but I have seen the title. So, I guess--did you like it? Would you recommend it?



Yes and yes! I enjoyed it a lot and I would definitely recommend it. It actually took me a bit to get into it, but once I did, I really did. At first I was surprised to find out that the story goes backwards in time. The book tells the story of four sisters, Sandy, Carla, Sofia and Yolanda, who immigrate to the United States with their parents to escape Trujillo's dictatorship in the Dominican Republic. I expected the book to be about them growing up and adjusting to a new country, and in a way it is, except it starts with them as grown women who have been in America for decades and them goes back in time.

I loved Alvarez' writing, I loved the characters, and I really liked the story. This book deals with a lot of themes: racism, cultural and personal identity, family, fear, and just growing up in general. And it handles them all very well.



300

by Frank Miller

Rhinoa said:

Damnit I want more information on 300 and The League of Extraordinary Gentleman.



Kim L asked:

300: I know the movie was pretty violent, I avoided it for that reason. How was the book? Would you recommend it?



The book was pretty violent too. I think I'd recommend it, but not to everyone. This is the kind of book that some people will be very enthusiastic about, while others will be left indifferent. I think I fall in the second category, I'm afraid. Not that I disliked it. The art was fantastic, and it's worth looking at just for that. But as for the story, I somehow couldn't see beyond the surface of what was there, you know? I know it's more than a story about war and people killing each other, but at that moment I was unable to see further than that.

My state of mind when I read it was probably the reason why. I was at the library, I had just finished revising for a final that afternoon, I had some time to kill before lunch, and for some reason I'd left the book I was reading at home. Because it looked like a quick read, I picked up

300

.

Anyway, I apologize for my less than helfpul answer, but I read this one back in January and can't remember all the details.


---
Now a few blog-related things: First, I decided to create a separate tab for my long-term reading projects. Some of you probably got a glimpse of it yesterday when I accidentally published it instead of saving the draft :P

I included the Pulitzer Project, and also a new one that I recently decided to embark on. I want to finish all the series I'm currently in the middle of before I begin any new ones.

There is of course no time limit for this. The reason why I decided to do it is the fact that it's always much more fun to read a series when you don't let too much time pass between books, and so you still remember the previous book's details well. So instead of starting new series that I'll probably only finish in five years, I want to focus on finishing the ones I'm reading now. Thus the Series Project. I even made a button for my own amusement.

I do plan on making an exception for the series that are already on my challenge lists for this year:

Nightmares and Fairy Tales

,

Black Jewels

,

The Dark is Rising,

The Lost Years of Merlin

, and the

Inkheart

books. That's quite a few of them, I know. But other than that, no more!

Hopefully the Mythopoeic Project that Susan is planing will soon be added to Reading Projects page. Right Susan?

Secondly, I've been slowly but surely going through my old posts, fixing the formatting and adding links to other blog reviews. I'm up to July 2007, so there's still a long way to go. I've been noticing that Google Reader searches are less than effective, though, and I can't always find reviews that I remember seeing. So I have to go to the person's blog and search there. This means that the ones I didn't see or don't remember are probably being left out.

All this to say that if anyone wants to e-mail me the links to the reviews we have in common, it'd be very much appreciated. I know that most Weekly Geeks did this ages ago, but better late than never, right?