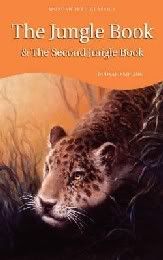 Now this is the Law of the Jungle -- as old and as true as the sky;
And the Wolf that shall keep it may prosper, but the Wolf that shall break it must die.
As the creeper that girdles the tree-trunk the Law runneth forward and back --
For the strength of the Pack is the Wolf, and the strength of the Wolf is the Pack.
As I'm sure most of you know,
The Jungle Book
is a collection of interrelated short stories and poems about Mowgli, a boy who is carried off to the jungle by a tiger when he's but a baby, and is then saved and brought up by wolves. He befriends Bagheera the panther, Kaa the python, Baloo the bear and Hathi the elephant, among others, and learns to live according to the Law of the Jungle.
Along with stories about Mowgli, there are also unrelated stories about animals set in various parts of the world. They were mostly enjoyable, but my favourites were undoubtedly the ones about Mowgli. For this reason, I was very glad to have picked up an edition with both
The Jungle Book
and
The Second Jungle Book,
as the second volume contains five additional Mowgli tales.
I'd been meaning to read
The Jungle Books
for years, but one thing that made me a bit reluctant to pick them up was the fact that I kept hearing about how moralizing the stories supposedly were. In fact, this assumption was something that kept me away from Kipling at first, but after reading some of his work I began to second guess it. And honestly, the more I read Kipling the more I become convinced that his reputation is unfair.
But I digress. I'm sure that those who look for morals in the stories told in
The Jungle Books
will find them, but I have to say that most of the time they went over my head. (And it seems that I'm
in very good company
.
) I don't have much of a taste for explicitly didactic stories, but fortunately these were anything but. Instead, they were simply good stories, stories with characters you believe in and care about, stories that keep you turning the pages, stories that make you want to know what happens next. And I have little doubt that this is the reason why they're still widely read over a century later.

The tone of these stories was different than I expected. Somehow I expected them to be lighter. There are light and humorous moments, yes, but also sad and dark ones, and several serious themes were dealt with. The Law of the Jungle is balanced and fair, but survival and death go hand in hand, and this is something Mowgli has to learn at a very young age. Also, many of the stories deal with the relationship between humans and nature, and the balance between our way of life and the natural world.

A few highlights:

"Tiger! Tiger!" – a story about Mowgli living among humans in a village, and about how he gets rid of his old enemy, Shere Khan the tiger, once and for all.

"The White Seal" – a story about a seal who travels the world in search of a place where seals will be safe from human hunters.

"Rikki-Tikki-Tavi" – about a mongoose who saves his adoptive human family from a couple of snakes that mean to kill them.

"How Fear Came" – during a draught, Hathi the elephant tells Mowgli and the other animals about how the first tiger got his stripes, and how he brought fear and death to the jungle.

"The King's Ankus" – a story about a fantastic treasure hidden under the ruins of a city in the jungle, and about its destructive power.

These were my favourites, but except for one or two of the non-Mowgli stories, the whole book was highly enjoyable. I look forward to picking up

Just So Stories

next.



Other Blog Reviews:


Rebecca Reads
Bookfoolery and Babble

Please let me know if I missed yours.

(I was going to do the mini-reviews post today, but I just didn't have time. So I'll leave that for tomorrow instead. Thanks to everyone who left questions, and rest assured, they will be answered.)