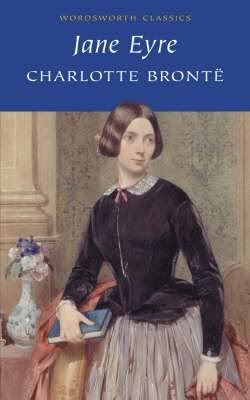 Better late than never, right? I've done it. I read
Jane Eyre
at last. And what did I think, you wonder? Well, it's going straight to my list of favourite classics.
We first meet Jane Eyre when she is ten years old, an orphan living with her maternal uncle's widow, Mrs Reed, and her three cousins. I liked her immediately – plain, passionate, lonely, thoughtful, intelligent and independent Jane Eyre. We then follow her to a boarding school, Lowood Academy, where she remains for six years as a student and two more as a teacher. And then to Thornfield Hall, where she is employed as a governess to little Adèle, and eventually falls in love with her employer, Mr Edward Rochester.
As I said, I really liked Jane Eyre herself. I liked the fact that she's both impetuous and sensible; I liked her independence of heart and mind. I liked the fact that she's true to herself and chooses to live her life on her own terms, accepting nothing lees. I liked her intelligence, her curiosity and her passion.
I also liked Mr Rochester, even with all his flaws. Or perhaps because of his flaws – they made him more human. You know, I think I actually preferred him to Mr Darcy. And I don't mean to turn this into a Jane Austen vs Charlotte Brontë sort of post, but since I got started, let me just say that while I think I prefer Jane Austen's writing,
Jane Eyre
feels closer to my heart.
Then there are all the lovely gothic elements – Thornfield Hall, the voices and premonitions, the things that wander in the night. I knew the answer to the biggest mystery from the beginning (I read and loved
Wide Sargasso Sea
a few years back, and plus this is one of those spoilers that are almost impossible to avoid), but the story still held quite a few surprises for me. And if on the one hand knowing made the strange nighttime occurrences less ghostly and mysterious, on the other hand it allowed me to pay attention to little signs and clues that I would otherwise have missed.

And mystery or no mystery, I found the story completely gripping, and I read this book much faster than I had imagined I would. I did lose a bit of interested towards the end, when Jane is staying at Moor House, but that was because I took quite a dislike to St John – he was so authoritative, so cold. But anyway, the last two chapters hooked me again.

Now that I've read

Jane Eyre,

I can pick up

The Thirteenth Tale

and catch all the references that I keep hearing about. But I wonder if I should wait for

Rebecca

to arrive and read that one first too.

A few favourite passages:

Women are supposed to be very calm generally: but women feel just as men feel; they need exercise for their faculties, and a field for their efforts as much as their brothers do; they suffer from too rigid a restraint, too absolute a stagnation, precisely as men would suffer; and it is narrow-minded in their more privileged fellow-creatures to say that they ought to confine themselves to making puddings and knitting stockings, to playing on the piano and embroidering bags. It is thoughtless to condemn them, or laugh at them, if they seek to do more or learn more than custom has pronounced necessary for their sex.

"He is not to them what he is to me," I thought: "he is not of their kind. I believe he is of mine;--I am sure he is--I feel akin to him--I understand the language of his countenance and movements: though rank and wealth sever us widely, I have something in my brain and heart, in my blood and nerves, that assimilates me mentally to him. Did I say, a few days since, that I had nothing to do with him but to receive my salary at his hands? Did I forbid myself to think of him in any other light than as a paymaster? Blasphemy against nature! Every good, true, vigorous feeling I have gathers impulsively round him. I know I must conceal my sentiments: I must smother hope; I must remember that he cannot care much for me. For when I say that I am of his kind, I do not mean that I have his force to influence, and his spell to attract; I mean only that I have certain tastes and feelings in common with him. I must, then, repeat continually that we are for ever sundered:- and yet, while I breathe and think, I must love him."
Reviewed at:


Life and Times of a New New Yorker
An Adventure in Reading
Puss Reboots
Kimmie's Krap
Books Love Me
Becky's Book Reviews
Nothing of Importance
Rebecca Reads
Book Nut
A Guy's Moleskin Notebook
Tammy's Book Nook
Stella Matutina
A Comfy Chair and a Good Book
Age 30+... A Lifetime of Books
Bending Bookshelf
Betty's Books
The Book Lady's Blog
Book Nut
Bookworms and tea lovers
eclectic/eccentric
Experiments in Reading
Find Your Next Book Here
Girl Detective
Jules' Book Reviews
Once Upon A Bookshelf
One Person's Journey Through A World Of Books
Reading Rants! Out of the Ordinary Teen Booklists!
Rebecca Reads
Sassymonkey Reads
Semicolon Blog
Stray Thoughts
Stuff I've Read
Tammy's Book Nook
Ticket To Anywhere
Violet Crush
WORD for Teens
words by Annie
The Zen Leaf

(Let me know if I missed yours)