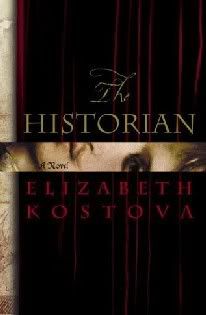 "This corner of history was as real as the tiled floor under our feet or the wooden tabletop under our fingers. The people to whom it had happened had actually lived and breathed and felt and thought and then died, as we did – as we would."
The Historian
tells three stories, three stories that are all pieces of a larger puzzle. The first is told by an unnamed narrator, who looks back on her days as a young girl in Amsterdam in the 1970s. It all begins when she finds a strange old book in her father's library. It's a blank book, apart from a dragon engraved in the centre. This discovery propels her father to slowly begin to tell her his own tale.
The girl's father, a historian named Paul, tells her how when he was a graduate student in America in the 1950s, the book one day appeared at his study carrel in the library, as if by magic. When he told his adviser, Bartholomew Rossi, about it, Paul was told a chilling and unbelievable fact: Dracula still walks among us today. A vampire, yes, but not the count of Bram Stoker's invention. This is Vlad Ţepeş, the Impaler, the cruel fifeteenth century Wallachian ruler.
The third story takes us back another twenty years, and it's the story of how Professor Rossi came to learn the truth about Dracula. These three stories are slowly unfolded through long letters, documents and journals, creating an almost unbearable amount of suspense.
In some ways,
The Historian
is a reinvention of
Dracula
, but it's also very much its own story. Still, it was interesting to see echoes of Bram Stoker in this novel, particularly in the scene when we get to see Vlad Ţepeş for the first time.
I think my favourite thing about
The Historian
was its atmosphere. While I didn't find it actually scary (but then again, I'm notoriously difficult to scare), I found it ominous, deeply unsettling and very gripping and mysterious. As the story advances, more and more questions are raised, and I was eager to learn the answers to them all. Then there are the old libraries, the half-ruined monasteries and castles, the archives, the Renfield-like librarians, the secret societies that go back five hundred years. And of course, the vampires. What's there not to love?


I also absolutely loved Elizabeth Kostova's descriptions of different cities and countries, of their sights and smells and sounds, of their particular feel. She added quite a few places to my "must visit" list, and the only reason why she didn't add even more was the fact that some of them where already there to begin with. But she renewed my desire to visit them. She takes us to Istambul, Budapest, Sofia, Oxford and the south of France, among other places. I loved how she wove descriptions of local cuisine into the novel. Even though I'm not very adventurous when it comes to food, I wanted to try all the dishes the characters were trying.

Mixing legend, history and folklore, Elizaebth Kostova creates an unforgettable modern gothic tale. But

The Historian

is more than that. It's also a reflection on the importance of history, on the weight of the past, on what can be learned by looking back. It's a book about the importance of studying the past so that we can see ahead more clearly.

I've seen T

he Historian

being referred to as "The Dracula Code", and while I suppose I can see where the comparisons with

The Da Vinci Code

might have come from, I didn't think that

The Historian

had the shortcomings that I found Dan Brown's novel to have: it isn't obvious, it doesn't feel contrived, it's much better written and it has a lot more depth.

If there's anything I might complain about, it's the fact that the ending was almost too neat – almost. And I say almost because the epilogue restored some of the prevailing sense of mystery and menace that I wanted a novel of this scope to end with. And for that I was very glad.



Other Blog Reviews:


Stuff as Dreams are Made On
Tip of the Iceberg
My Year of Reading Seriously
Once Upon a Bookshelf
Framed and Booked
Becky's Book Reviews
Read Warbler
The Written Word
Pardon My French
So Many Books, So Little Time
What Kate's Reading
Here, There and Everywhere
Out of the Blue
Page 247

(Please let me know if I missed yours)