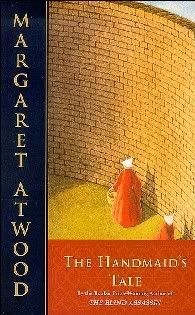 I wish this story were different. I wish it were more civilized. I wish it showed me in a better light, if not happier, then at least more active, less hesitant, less distracted by trivia. I wish it had more shape. I wish it were about love, or about sudden realizations important to one's life, or even about sunsets, birds, rainstorms, or snow.

(...)

I'm sorry there is so much pain in this story. I'm sorry it's in fragments, like a body caught in a crossfire or pulled apart by force. But there is nothing I can do to change it.
The protagonist of this story is Offred, the Handmaid of the title. Offred lives in Gilead, a dystopian society with a totalitarian government. As she tells her tale, we are given glimpses of the past, and we gradually discover how she went from being an ordinary twentieth-century woman, with a job and a family, to being a Handmaid. A Gilead Handmaid is, as Offred puts it, "a womb on two legs". Fertility is low, and therefore women who are capable of reproducing are used for that purpose.
"Offred" is not this woman's real name. She was renamed when she became a Handmaid, and her name is composed of the proposition "of" and the name of the man she belongs to, a commander named Fred. All Handmaids are similarly named – Ofwarren, Ofglen. They are belongings. They are objects.
The most terrifying thing about
The Handmaid's Tale
is that the kind of society it describes doesn't sound as far-fetched as it should. For example, after reading this book I read
Freakonomics
, where I discovered that in the 1970's, Romanian dictator Ceauşescu created a force that became ironically known as the "Menstrual Police" – their job was to regularly round up women and give them pregnancy tests. Those who failed to conceive were forced to pay high "celibacy taxes".
And equally terrifying is the fact that the process of transition from normal society to Gilead is not as unfamiliar as it ought to be - freedoms being gradually withdrawn, changes being slowly implemented, mentalities changing faster than we ever suspected they could, and through all of this, people growing used to a new state of affairs like figurative frogs in a heating pan.

While a "celibacy tax" is not exactly the same as the horrors described in

The Handmaid's Tale,

it's not as far from it as that, and both are examples of women being defined by – reduced to – their ability to bear children. In Gilead, all women, not just the Handmaids, are defined by their ability to procreate or by the lack thereof. The fact that a Handmaid who fails to conceive in two years is declared an "Unwoman" says it all. In fact, Gilead is a society where everyone is defined by their gender, and I mean "gender" is the narrowest possible sense. What is done to women determines how men live their lives too. It determines how every single person interacts with others. By dehumanizing women, men also dehumanize themselves. This is well shown in Offred's interactions with the Commander, a man she thinks she might have even liked in other circumstances.

In a society with such a great power unbalance between the sexes, there can be no real intimacy between couples. There can also be no real closeness or solidarity between women. Women are hierarchized—the Wives are supposedly more powerful than Handmaids, but their situation is really not to be envied. The Wives have no real power, and they resent the Handmaids. The Marthas (housekeepers) fear the Handmaids, and the Handmaids cannot confide in one another. Everything is monitored. Everyone is ruled by fear.



The Handmaid's Tale

is a memorable story, and Margaret Atwood's writing is beyond amazing. I haven't read much of her work before, and in the books I did read I liked her writing, but until now I hadn't been awed by it like I was while reading this book. And it's not just the writing; it's the story's pace, the characterization, the sheer power of what is being said.

The Handmaid's Tale

is frightening, moving and impossible to put down. It's a story that will stay with me for a very long time.



Other Blog Reviews:


Life and Times of a New New Yorker
In Spring it is the Dawn
Reading Reflections
Under the Dresser
Bold.Blue.Adventure
Care's Online Bookclub
Just What You Want
Book-a-Rama
The Bluestocking Society
Melody's Reading Corner
Rebecca Reads
Valentina's Room
Reading Room
Books and Needlepoint
Dog Ear Diary
Read Warbler
Jenny's Books
Eclectic/Eccentric

(Let me know if I missed yours.)