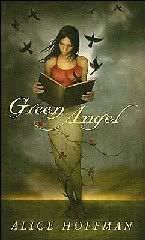 "I dreamed of vine and grass, apples and emeralds, rain and white night-flowers that bloomed with green centres. I dreamed of everything I'd lost and all that I'd found and everything in between."
This gorgeous little book tells the story of fifteen-year-old Green. Green is shy, quiet and thoughtful, reluctant and testy around others – she prefers "roses and asparagus to people". Although she loves her little sister, Aurora, she often feels outshined by her. She longs for the day when people will noticed her and see who she truly is.
But one day, everything changes. Her parents and her sister go to the city, and it's there that they are when disaster strikes. This disaster changes not only Green's life, but the world as she knows it. Green renames herself Ash, and vows never to feel again. But like the grey and scarred earth around her, she finds that she can't help the fact that she's slowly beginning to heal.
Green Angel
reads much like a fairy tale – a magical, post-apocalyptic, sad and ultimately hopeful fairy tale. It's the story of a young girl dealing with grief, trying to survive in a ruined world, and eventually giving herself permission to feel again, even if it might mean further loss. It's a story about frailty and loneliness and identity and cherishing the fact that, despite everything, you're alive.
The writing is absolutely gorgeous – at once simple and lyrical, detailed and dreamlike. G
reen Angel
is a very short book, one that can be easily read in one sitting, and one that once you start, you will not want to put down. But despite its size, the story this book contains is a haunting and profound one.
While I didn't love
Green Angel
quite as much as
The Ice Queen
, this is further proof that I have many pleasant hours with Alice Hoffman ahead of me. My thanks to
Alessandra
,
Mariel
and
Orchidus
for recommending this book to me.
Other Blog Reviews:
Out of the Blue
Blogging 'Bout Books
(Did I miss yours? Let me know.)