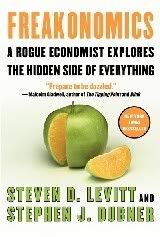 What this book is about is stripping a layer or two from the surface of modern life and seeing what is happening underneath. We will ask a lot of questions, some frivolous, some about life-and-death issues. The answers might often seem odd, but also, after the fact, rather obvious. We will seek out these answers in the data—whether those data come in the form of schoolchildren's test scores or New York City's crime statistics or a crack dealer's financial records.
From the Introduction

How do I even begin to describe
Freakonomics
? According to the subtitle, it's a book in which "a rogue economist explores the hidden side of everything". But what exactly does this mean? I never thought of myself as being particularly interested in economics, but, as Terry Pratchett so cleverly demonstrates in
Making Money
, economics is also about what people want, how they act, and why. And that is definitely something I'm interested in.
A lot of
Freakonomics
reminded me of my days of studying social psychology. This book approaches all sorts of interesting questions – do unusual names or distinctively black names carry a socioeconomic penalty? Is there a relationship between abortion and crime? Are crack dealers actually making a lot of money? And if not, why choose such a dangerous (not to mention illegal) occupation? Do teachers help their students cheat? How can we know for sure?
And this is only the beginning, really. Some of the answers the authors arrive were easy to guess. For example, parents who name their children Temptress and Shithead (I kid you not) are not likely to invest in their education or provide them with a good environment in which to grow up, and it's this, not the names themselves, that makes it hard for them to do well. Others were initially surprising, but, like promised, make perfect sense once you think about them. For example, a study done in Israeli daycare centres showed that parents were
more
likely to be late picking up their children after a $3 fine for each late arrival was implemented. This was because the fine legitimized the late pick-ups. Because they were paying for it, the parents felt that they were entitled to arrive late.

I like the way Levitt and Dubner deconstruct many things that are widely accepted as being true. And I find their willingness to speculate and ask all sorts of questions refreshing. For a moment, they put aside the ethical, ideological and political implications of their conjectures, and they manage to do this without ever denying that these exist. They just don't ever say "let's not go there". They ask the questions first, and then try to contextualize the answers.

I guess the book can be a tiny bit repetitive at times, especially when it comes to explaining things that you are taught in Research Methodology 101 over and over again ("correlation is not necessarily cause", for example). But this is really not something I ought to be complaining about, as it's exactly this clarity and simplicity that makes the book so accessible for people of all sorts of different backgrounds.

I was happy to discover that my edition of the book contained over 80 pages of bonus material – an article by Dubner about Steven D. Levitt written for the New York Times Magazine in 2003 (which was the start of their collaboration), the Freakonomics columns published in the same magazine between August 2005 and April 2006, and excerpts from the Freakonomics blog (which contain reactions to the book, among other things).



Freakonomics

was a much faster read than I expected, and it was much more entertaining than I thought a book with the word "economics" in its title could ever be. Thanks to everyone who encouraged me to read this book.



Other Blog Reviews:


Age 30 - A Year of Books
Bibliolatry
(Did I miss yours? Let me know.)