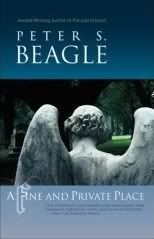 The grave's a fine and private place,
But none, I think, do there embrace.

It begins with a raven stealing a baloney. He then flies over New York to Yorkchester Cemetery, delivers it to one Mr Rebeck, and stays for a little chat. It's a rather sarcastic raven, but a kind one deep down.
A Fine and Private Place
is a love story between Michael Morgan and Laura Durand. Of the things they have in common, one stands out – the fact that they are both dead. It's also a love story between Mr Rebeck and Mrs Klapper, who are both very much alive. But Mr Rebeck has secretly lived in a graveyard for almost twenty years.
When I finished
A Fine and Private Place
, one word crossed my mind – "wow". It's not a very eloquent word, I'll grant you, but I was at a loss for more. How can I begin to explain how much I loved this book?
I think I'll start by saying that in some ways it reminded me a lot of
The Good Fairies of New York
. And if you have been reading this blog for some time, you have probably heard me go on about how much I love
The Good Fairies of New York
. Both are such kind and wise books. Both have a similar kind of subtle humour, of tenderness, of warmth.
A Fine and Private Place
is a lovely and quiet ghost story that is very much about being alive. It's about fear and loneliness and love and time – fighting to delay our goodbyes even if just for five more minutes. They will go by fast, yes, but they matter so much. It's about the importance of little things, little gestures, of the bonds that tie us to one another. It's about daring to be alive.


I was completely amazed to find out that Peter Beagle wrote

A Fine and Private Place

when he was nineteen years old. What an absolutely stunning debut. There's nothing undeveloped or unpolished about this novel. It doesn't show potential – it shows genius. But more than that, it's such a wise book. Peter Beagle wrote

Tamsin

when he was a middle-aged man, and he perfectly captured the thoughts and feelings of a teenage girl. Likewise, he wrote

A Fine and Private Place

when he was a teenage boy, and he perfectly captured the thoughts and feelings of a middle-aged woman and a middle-aged man.

Both Mr Rebeck and Mrs Klapper feel so real. Mr Rebeck hasn't left the graveyard in nineteen years, and he's worried and reluctant and afraid of the world – afraid of change, most of all. Mrs Klapper has been a widow for a little over a year, and she struggles to remain cheerful, to keep busy – to fill the minutes and the hours and the days. Both are lonely, of course, though they are unlikely to admit it to themselves. Both are a little eccentric, and very human, and among the most likeable characters I have ever encountered.

Then there are Michael and Laura, but I will say no more. Read this book. It's a love story and a ghost story and a bit of a murder mystery. It's superbly written. It's a lovely tale. It will move you and make you chuckle and stay with you.

One more thing: I have read three books by Peter Beagle now, and I have absolutely adored all three, each of them more than the previous one. That makes it official: Peter Beagle has joined my list of favourite authors. I must now find and read everything else he has written.

You can read an interview with Peter Beagle by Jeff VanderMeer here.

Favourite passages:

"They had it all backwards, you see, those old ghost stories about the dead haunting the living. It's not that way at all."

He wondered why this should be, why the things this woman was saying should delight him so, particularly when he barely understood them. He knew very well that the great majority of human conversation is meaningless. A man can get through most of his days on stock answers to stock questions, he thought. Once he catches onto the game, he can manage with an assortment of grunts. This would not be so if people listened to each other, but they don't. They know that no one is going to say something moving and important to them at that very moment. Anything important will be announced in the newspapers and reprinted for those who missed it. No one really wants to know how his neighbour is feeling, but he asks him anyway, because it is polite, and because he knows that his neighbour certainly will not tell him how he feels.

I wish something would happen to me, something that would show me how cruel and jealous and vengeful I can be. Then I could go back to gentleness because I chose it over brutality for its own sake, not because I didn't have the courage to be cruel. I might even like cruelty. I doubt very much that I would, but I ought to find out.

He felt listless and lonely when the raven was gone. A little while ago he had been sitting with three friends; now there was only himself on the hillside, and the transition was too sudden for him. He wondered if very old men felt that way. Perhaps children did, children who had fallen asleep in a room full of light, and wakened much later, alone in a strange bed in the middle of the night, in a room that might have been friendly and familiar once, but was no more.


Other Blog Reviews:


Food for the Soul

(Have you also reviewed this book? If so, leave me your link and I'll add it to this post.)