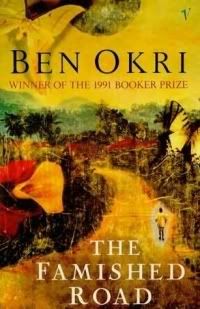 The Famished Road
takes place in the ghetto of an unnamed city somewhere in West Africa. It's the story of Azaro, an
abiku
or spirit-child. The
abiku
are said to be constantly coming and going between our world and the spirit-world. But when the new-born Azaro first sees the sad and beautiful face of his mother, he decides to stop the constant cycle of dying and being reborn. He decides to stay among the living.
Azaro's ties with the spirit world are never severed, and he frequently wanders from one plane of reality to another. But at the same time, he is deeply tied to our world, and he experiences all the hardships that a child growing up in deep poverty has to face.
The Famished Road
is full of surreal and dreamlike imagery and references to
Yoruba mythology
, but it also portrays life in an African ghetto in great detail: the constancy of hunger, violence and illness; living in a single-room house with no sewage or electricity; poverty and unemployment; corrupt politicians and rigged elections; domestic violence, deforestation, the conflict between modernity and a traditional way of life.
The writing and the imagery used in this book are very beautiful. But I won't lie: this is a demanding read. It's not that it's difficult to follow, but it demands patience and attention. In some ways, it reminded me of
Midnight's Children
. Both were books that took me a while to get into, but that turned out to be extremely rewarding. To be honest, I think I'd have enjoyed
The Famish Road
even more if I had taken more time with it, if I hadn't been so anxious to jump into my R.I.P. reads.
I think that fans of magic realism, and of Rushdie in particular, will really enjoy this book. The book's atmosphere is very dreamlike. We have the constant presence of spirits at Madame Koto's bar. We have women with the face of animals, and boxers who return from the dead for one last fight. But like I said, this is counterbalanced by the depiction of the harshness of life in modern Africa. A lot of attention is paid to political manipulation, to people being coerced to vote for one particular candidate, to the violence that those who dare voice their desire for change and for true democracy have to face.


Near the end of the book, Azaro says this about another spirit-child:

There was something cruel about my friend's spirit and I understood why spirit-children are so feared. Faced always with the songs and fragrances of another world, a world beyond death, where the air is illuminated, where spirit companions know the secret of one's desire, and can fulfil those desires, every single one of them, spirit-children do not care much for the limited things of the world. Ade did not want to stay anymore, he did not like the weight of the world, the terror of the earth's time. Love and the anguish of parents touched him only faintly, for beyond their stares and threats and beatings he knew that his parents' guardianship was temporary. He always had a greater home.
The thing is, for most of the book, this is also true of Azaro. Until he has to make a choice, at least. Azaro has one foot in each world, and so at times he doesn't seem to feel the full weight of the misery that surrounds him. I really enjoyed the surreal aspects of this novel, and I understand that it couldn't have been written otherwise without turning into a different story. But at the same time, I would love to read a coming-of-age story set in modern Africa with a protagonist that is fully immersed in our world, who doesn't have the detachment that Azaro sometime has. Perhaps it's time I pick up

Purple Hibiscus

.

Some memorable passages:

Everywhere there was the crudity of wounds, the stark huts, the rusted zinc abodes, the rubbish in the streets, children in rags, the little girls naked on the sand playing with crushed tin-cans, the little boys jumping about uncircumcised, making machine-gun noises, the air vibrating with poisonous heat and evaporating from the filthy gutters. The sun barred the reality of our lives, and everything was so harsh it was a mystery that we could understand and care for one another or for anything at all.

I couldn't get over the fact that we can look out of our eyes, out of our inner worlds at people, but that people, looking at us, couldn't see into our eyes, our thoughts, our inner worlds. How transparent one feels, but how opaque: it mystified me. Even the act of motion, human beings walking on two legs, balancing on them, surprised me. With eyes wide open from a new fear of sleep, I looked at the world, I tried to see all that was in it, I embraced all things into my life. I hugged the alarming mystery of reality, and grew stronger.

We grew more afraid. Suspicion made it easier for us to be silent. Silence made it easier for us to be more powerless. The forms of dominance grew more colossal in the nightspaces. And those of us who were poor, who had no great powers on our side, and who didn't know the power of our hunger, a power that would frighten even the gods, found that our dreams became locked out of the freedom of the air. Our yearnings became blocked out of the realms of manifestation.
Completely random fact #1: the lyrics to the Radiohead song "Street Spirit (Fade Out)" were inspired by

The Famished Road

. I never knew.

Completely random fact #2: Ben Okri uses the verb "to quiver" a lot. Another writer who uses that verb a lot is D.H. Lawrence. So while reading

The Famished Road

I kept being reminded of D.H. Lawrence even though the writing is nothing like his, and it took me a while to figure out why.



Other Blog Reviews:


Culturazzi
Jackie at The Complete Booker
Trevor at The Complete Booker

(Have you also reviewed this? Leave me your link and I'll add it to this list.)