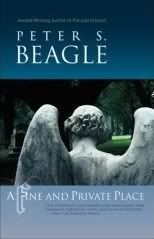 So, like I was saying yesterday, October 1st-7th is Buy a Friend a Book Week again, and I'd like to participate this time around. I decided I'm going to keep the same theme I used last time I participated, and give away a book that I think deserves to be more well-known. This time, I picked
A Fine and Private Place
by Peter Beagle. You can read my post about it
here
.
To be entered,
leave me a comment saying which book or books you think deserve more attention than they get. You have until October 7.
The winner will be announced the following day. The giveaway is open to participants anywhere in the world. Good luck!
Other giveaways:
Chris
Dewey
Care
tanabata
Madeleine
Carl
Melanie
Alice
Laura
Let me know about yours!
The giveaway is now closed. Thanks to everyone who entered.