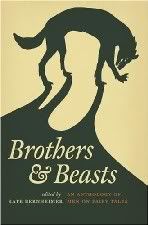 Wonder tales can transfix us with horror as well as with beauty, but they always also engage our intellectual powers, provoking forms of curiosity that lead us to explore what they describe and to understand that the beast lurking in the woods may be our next of kin. Like the women writers in the companion volume to this one, the men here are committed to more than moments of rapture. They relentlessly explore the dark side of fantasy, recognizing that violence and horror coexist with wonder and beauty
From the Foreword by Maria Tatar

Like its
companion book
,
Mirror, Mirror on the Wall
,
Brothers & Beasts
is a collection of essays about fairy tales. While
Mirror, Mirror
was dedicated to female writers, this one is dedicated to men. Contributors like Neil Gaiman, Christopher Barzak, Gregory Maguire, Jeff VanderMeer or Steve Almond write about growing up with fairy tales, fairy tales and creativity and the importance of stories, among other things.
Brothers & Beasts
is quite a bit shorter than
Mirror, Mirror on the Wall,
and that's a big part of the reason why I didn't enjoy it as much. There was just less to love. If you're only going to read one of these books, I'd recommend going with
Mirror, Mirror
, but this one is also very much worth reading. I liked how diverse the essays were. Some authors followed an adventurous approach and wrote experimental essays of various kinds, some of which read more like stories. Others were more conventional, but most essays contain some great insight on why fairy tales matter.
Some of the highlights were:
"The Boy Who Went Forth" by Christopher Barzak, in which he relates the Grimms' fairy tale
"The Boy Who Went Forth To Learn What Fear Was"
to his own experience of growing up in a small town in Ohio. The boy in the tale is considered mad and stupid simply because he is different from those who surround them – he doesn't fear what they fear. And of course, the same happens in our world – those who are different are often chastised.
"Kitsune" by Alexander Chee, in which he writes about Japanese and Korean tales of fox women, his childhood and his multicultural background, and the process of writing his first novel, of trying to find the right shape for the story he had to tell.
"Four Poems", where Neil Gaiman comments on his four fairy tale poems,
"Instructions"
,
"Locks"
, "Inventing Aladdin" and
"Boys and Girls Together"
. The fact that this essay felt familiar even though I'd never read it before made me smile. A lot of it was about his deep belief in stories, which is, like I
explained
some time ago, one of the main reasons why I love his writing as much as I do.

"The Boy Who Could Not Be Scared", an essay where Willy Vlautin (novelist and leader of the band Richmond Fontaine) approaches the same fairy tale as Christopher Barzak, and writes about family, childhood, stories, love and loss. I love this passage, in which his grandmother explains to him why the boy in the tale discovered fear at last:

Because he gets scared, he becomes human. Because, my grandmother said, love makes you human. And the loss of love is pain, is fear, and is sadness. The boy's wife had hurt him. Before he had nothing to lose, and now, of course, he did.
I also really enjoyed the Foreword and Afterword by fairy tale scholars Maria Tatar and Jack Zipes. This is a book that will appeal to lovers of fairy tales, but also, like

Mirror, Mirror on the Wall

, to those who are interested in storytelling and in the creative process in general.

I'll leave you with a great passage from Gregory Maguire's essay, "The World Turned Upside Down". He perfectly sums up not only why I love fairy tales, but why I love fantasy in general:

We need to practice the art of believing in survival so that when we need to survive, we recognize the concept. Why these fanciful conceits, these marmalade skies, these mutant chickens, these motherless children in fairy tales? Because by being a notch or two different than our own world, they can be noticed; they show up against the static and the smudge of dailiness. Then, when we look back at out world, we see with renewed vision, with rested eyes and restored spirits. The static isn't so impenetrable, the smudge no longer so bleary.
(Have you reviewed this book? If so, please leave me your link and I'll add it to this post.)

---

I'd like to take a moment to thank those who nominated me for the Best Fantasy Blog category of the upcoming Book Blogger Appreciation Week. I'm flattered and honoured, especially to be in the company of some of my favourite blogs! Thank you so much.

I was actually initially surprised that so many of the finalists in different categories were blogs I had never heard of before. But the again it makes sense, since my own "circle" of book bloggers is only a fraction of those that exist out there. It seems that book blogging is becoming more and more widespread, and I have the feeling that it's here to stay. I look forward to seeing what else Amy has lined up for Book Blogger Appreciation Week.