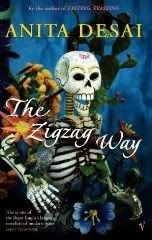 The Zigzag Way
is divided into four sections. The first concerns Eric, a young American who follows his girlfriend Em into Mexico. Because she's busy with her research, Eric is left alone most of the time, and ends up leaving Mexico City to travel to the Sierra Madre Oriental, where he hopes to find out more about his family. As he discovered shortly before his trip, his father was actually born in Mexico, and his grandfather was a Cornish miner who immigrated there in the 1910's.
The second section mostly concerns Doña Vera, a woman known as the "Queen of the Sierra". Doña Vera is a renowned expert on the Huichol Indians, and her house, the Hacienda de La Soledad, is a research centre that attracts students and experts from all over the world. However, as we soon find out, not everything about this woman is as it seems.
The third section tells Betty's story. Betty is Eric's grandmother, and as a young woman she immigrates from Cornwall to Mexico to marry Davey and settle in one of the mining communities. As you can imagine, the process of adapting to a new culture and way of living is not exactly easy. Finally, in the fourth section, set in the Dia de los Muertos, we return to Eric, and the three previous storylines more or less come together in a ghostly finale.
I have mixed feelings about this book. I bought it impulsively when I found it in a bargain bin last year because I was drawn to the Day of the Dead-ish cover, and plus the author's name was vaguely familiar (it turns out that it was her daughter Kiran that I had in mind). I guess impulse buys are always a little risky. But let's start with what I liked about this book.
My favourite thing was the setting. Anita Desai brought Mexico and the Day od the Dead to life perfectly. Reading this book taught me quite a few things: about the Mexican revolution (it probably helped that I looked up a few things after reading
Pedro P
á
ramo
), about the mining industry in the early twentieth century, about the Huichol people and their traditions. I liked the fact that every chapter was preceded by a citation from a historical source concerning the conquest of Mexico. I also liked Betty a lot. Her endurance, her strong will, her courage. Her story was by far my favourite of the three. I loved reading about what life was like in a small mining community in the new world, especially for women.

And that brings me to the first problem. If only I'd managed to care about Eric and Doña Vera as much as I did about Betty, I'd have loved this book. But I never truly got into their stories, and they never quite felt like actual people to me. The second problem is the writing. It's not that it's bad – there are some really great descriptions – but Anita Desai is apparently not a big fan of commas. As a result, you get sentences that are four or five lines long and don't have a single punctuation mark.

Now, I'd take too few commas over too many any day of the week, but the way I see it, punctuation is supposed to be invisible. Most of the time, when you start noticing it, or noticing its absence, something has gone wrong. Maybe her intention was to give the book an urgent, breathless voice, but it just didn't work. I found myself noticing all the missing commas, and becoming increasingly annoyed as the book advanced.

So would I recommend this book? Yes and no. It's very short, so it will hardly feel like a waste of time. And it has its strong points. But I strongly suspect this is not Anita Desai at her best.

(Have you also reviewed this book? If so, let me know in the comments and I'll add a link to your review.)

---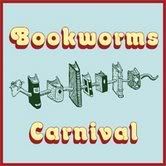 I'm a bit late with this, so must of you must have seen it, but in case anyone's missed it, the 14h edition of the Bookworms Carnival is up at The 3 R's: Reading, 'Riting, and Randomness. The theme is a great one - Children's and YA literature - and Florinda did a great job. If you haven't yet, make sure you check it out.



Secondly, Amy at My Friend Amy is hosting Book Blogger Appreciation Week between the 15th and the 19th of September. This sounds like it will be fun. Click on the button to find out more.

Jeane at Dog Ear Diary is celebrating her first blogiversary in the traditional way - with a giveaway! She'll select two winners who'll get to choose a book from a pile. There are some great books to choose from! Go here to find out more.

Finally, Melody is also having a giveaway. She's giving away an audibook of In My Dreams, a collection of short stories by Garden Spells author Sarah Addison Allen. To be entered, leave her a comment here before the 26th.