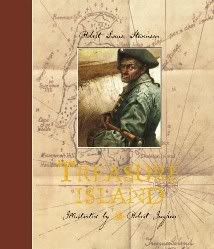 I wasn't planning on reading
Treasure Island
this summer. But my boyfriend's beautiful illustrated edition (with both full page colour illustrations and the 1885 edition George Roux illustrations) was calling to me from the shelf. The reason why I wasn't planning on reading
Treasure Island
in the summer was because I somehow expected it to be ultimately rewarding, yes, but also a bit slow going.
Last year I read Stevenson's
The Strange Case of Doctor Jekyll and Mr Hyde
, and while I did enjoy it, it took me a bit to get through it, especially considering how short the book is. Doctor Jekyll and Mr Hyde is written in that typically elaborate nineteenth century style that despite its many charms takes longer to get through than contemporary writing.
Well,
Treasure Island
is completely different. It probably helps that Stevenson wrote it with his stepson in mind, but anyway, this classic is 220 action-filled pages of unputdownable fun.
Jim Hawkin's parents own an inn, the Admiral Benbow, near Bristol. Their quiet lives change when a seafaring man by the name of Billy Bones takes a room at the inn. The captain has in his possession a map of a tropical island by the name of Skeleton Island, and an "x" marks the spot where Captain Flint, a deceased pirate, buried his famed treasure. After a few twists and turns, Jim finds himself becoming the cabin boy of a The Hispaniola, and going in search of the treasure along with his friends Dr. Livesey and Squire John Trelawney.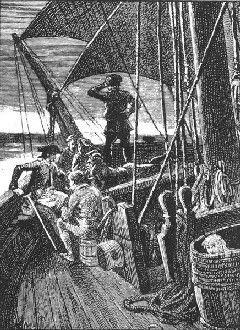 What's there not to love about pirates? And this book has it all: treacherous one-legged pirates with parrots on their shoulders, the Jolly Roger, mysterious islands, curses, grog and rum, schooners, and treasures. And of course, pirate songs, including the most famous one of all:

Fifteen men on a dead man's chest
Yo ho ho and a bottle of rum.

Drink and the devil had done for the rest
Yo ho ho and a bottle of rum.
And how cool a word is "buccaneer"? I love it, and I hadn't come across it since my days of playing Monkey Island. Of course, all of these elements have now been done to death, but in this book they somehow manage to feel fresh. It's not unlikely that my knowledge that this is one of the original pirate adventure stories influenced by perception, but I think that it also says something about Stevenson's storytelling abilities.

In addition to being a wonderful adventure,

Treasure Island

is also a story about facing one's fears and growing up. If, like me, you somehow managed to miss out on this classic so far, I really recommend that you do something to change that.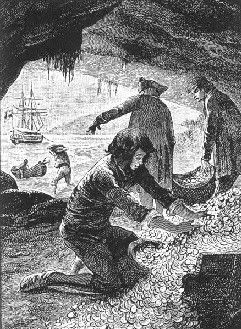 Other Blog Reviews:

Dog Ear Diary
Melissa's Bookshelf
Reading Comes From Writing
Blogging My Books

(Have you reviewed it as well? Let me know and I'll add your link to this list.)