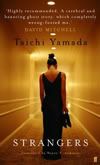 Hideo Harada is a middle-aged and recently divorced TV scriptwriter. He doesn't have many friends, and professionally things aren't going too well for him. Ever since his divorce, he has been living in a one-room apartment that used to be his office, and the complete silence that engulfs the building after night falls haunts him. One evening, he decides to visit Asakusa, the Tokyo district where he lived with his parents until their death, which happened when he was twelve years old. There, he befriends a man who looks exactly like his father at the time of his death. And so begins a story in which the world of the living and the world of the dead intertwine.
I have mixed feelings about
Strangers.
I loved it until the last two or three chapters, but then something that changed the direction of the story happened, and I'm still not sure how I feel about it. But let me start with the good things.
Strangers
is wonderfully haunting and atmospheric. For the most part, it was the exact kind of ghost story that I like: the kind that is eerie, but not exactly dark or frightening. The kind that is quiet and melancholy, and about grief and loss, and how the living keep on dealing with the death emotionally even after they depart.
I also liked all the references to traditional Japanese folklore. Not that I know much about it, but Hideo mentions "the old stories" quite a few times, and they seem to inform his knowledge of how contact between the world of the living and the world of the dead is supposed to go. I liked how palpable Hideo's loneliness is, and this even though he is the narrator and doesn't acknowledge it himself. And I liked how, like in all the best stories, the small miracles in
Strangers
came at a price.
So I was all prepared to declare
Strangers
a sad, beautiful and haunting ghost story. But then it happened. And by "it" I mean the twist at the end. I won't give it away, of course, but I will say that while it didn't exactly surprise me, it disappointed me. I had considered the possibility of things going that way, but I dismissed it because I thought it would ruin the story.

And did it? Well, I think that the problem was that I had envisioned how the story should go a little too clearly. I didn't mean to, but I just couldn't help it. And while the twist might not have ruined the actual story, it ruined the story I imagined I was reading. It added a note of bitterness and vengeance that I didn't want the book to have.

For this reason, I feel that I can't exactly do this book justice. I feel that I should read it again, now that I know how the story actually goes, and see how I react to what is there without my expectations playing tricks on me.

Disappointments aside, I do think that

Strangers

is worth reading. It's fast-paced and well-written, and it's both moving and disturbing.



Other Blog Reviews:


In Spring it is the Dawn
One More Chapter
Reading Matters
Books of Mee
The Reading Life

(Have you reviewed it as well? If so, let me know and I'll add your link to this list.)