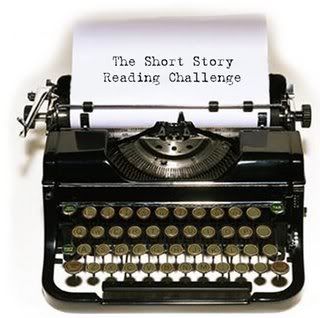 This week I completed the Short Story Reading Challenge by reading short stories by Kij Johnson, Holly Black and Jhumpa Lahiri. And let me start by telling you about what turned out to be one of the best stories I've read all year, and an immediate addition to my list of favourite short stories:
"The evolution of trickster stories among the dogs of North Park after the Change" by

Kij Johnson

.
This story is a finalist for the World Fantasy Award, and even without having read the other nominees, I can honestly say I hope it wins.
What is "The evolution of trickster stories among the dogs of North Park after the Change" about, you ask?
Well, the change in the title refers to a moment in time, previous to the story's beginning, when domestic animals gained the ability to speak. It turns out that humans don't deal with this very well, even the ones who always thought they'd love to know what their pets were thinking.
As much as we love domestic animals, as kind as we are to them, we know that our relationship with them is marked by a lack of balance. We have power over them. We can control and determine their lives. And not everyone will abuse this power, but everyone
can
abuse it, and some people will. So if dogs and cats and cows and so on could speak, perhaps we wouldn't always like to hear what they'd have to say. The story is about this unbalance, but also about love, shame, guilt, cruelty, storytelling, fear, kindness, resourcefulness, and about the things we never admit to ourselves.
The story's protagonist, Linna, likes to spend time with the stray dogs that gather at North Park. There, she talks with them and listens to their stories. With language comes storytelling, of course, and the North Park dogs tell stories about a trickster they refer to as One Dog. As the Change alters their lives and the way they interact with humans more and more, the stories they tell also gradually change.
"The evolution of trickster stories among the dogs of North Park after the Change" is beautifully written, emotionally powerful and very very gripping. See for yourself. A few favourite passages:
(Sometimes we think we want to know what our dogs think. We don't, not really. Someone who watches us with unclouded eyes and sees who we really are is more frightening than a man with a gun. We can fight or flee or avoid the man, but the truth sticks like pine sap. After the Change, some dog owners feel a cold place in the pit of their stomachs when they meet their pets' eyes. Sooner or later, they ask their dogs to find new homes, or they forget to latch the gate, or they force the dogs out with curses and the ends of brooms. Or the dogs leave, unable to bear the look in their masters' eyes.

(We like our slaves mute. We like to imagine they love us, and they do. But they are also with us because freedom and security war in each of us, and sometimes security wins out. They do love us. But.)

(Some people keep their dogs, even after the Change. Some people have the strength to love, no matter what. But many of us only learn the limits of our love when they have been breached. Some people keep their dogs; many do not.

(The dogs who stay seem to tell no stories.)
"Going Ironside" by

Holly Black

is a short tale set in the same world as her Tithe/Valiant/Ironside series. I honestly can't think of much to say about it, for some reason. Perhaps because it's so brief, and because it feels a bit like a brief glimpse into a world that's introduced elsewhere. Which it is. But I enjoyed it, and I was reminded that I really need to get around to reading her books. I like the story's urgency and barely suppressed despair. I like the fact that it's dark. I've heard from many people that her Faerie books are very dark, so that's hardly surprising. I really look forward to reading them one of these days.

Finally, I also really really enjoyed

Jhumpa Lahiri's

"Hell-Heaven". This is one of the stories in her new collection, Unaccustomed Earth, which is another book I really must read. I think I enjoyed this story as much as my favourites on Interpreter of Maladies, and that's a lot.

The narrator of "Hell-Heaven" is Usha, the daughter of a Bengali family living in New England. She tells of how she and her parents meet and befriend Pranab Kaku, another Bengali immigrant who becomes like an uncle or older brother to her. Her mother and Pranab Kaku become very close, and help each other adjust to life in a new country by reminiscing together about life in Calcutta:

They had in common all the things she and my father did not: a love of music, film, leftist politics, poetry. They were from the same neighborhood in North Calcutta, their family homes within walking distance, the façades familiar to them once the exact locations were described. They knew the same shops, the same bus and tram routes, the same holes-in-the-wall for the best

jelabis

and

moghlai parathas

.
Usha's mother's feelings for Pranab Kaku don't take long to develop into far more than friendship. The result is a bittersweet story about marriage, immigration, adolescence, heartbreak and the ability to move on. Like all Jhumpa Lahiri stories, "Hell-Heaven" is moving, memorable, perceptive and detailed.


---
Jeane at Dog Ear Diary was kind enough to give me the Super Commenter Award. This award made me particularly happy, as I love comments - both getting them and leaving them. Don't we all? Still, I'm probably not alone in sometimes wondering if the comments I leave are too long, too short, too bland, too cheerful, not cheerful enough, irrelevant, annoying, etc., so it's really nice to feel appreciated.

I honestly appreciate each and every comment I get on this blog. And I mean every one: I've been lucky so far, because even though I get the occasional anonymous comment, none of them were ever unpleasant or rude. I really can't thank those of you who take the time to comment here enough.

There are many people I'd like to pass this on to, but I'm supposed to pick seven, so here it goes: Thank you Rhinoa, Debi, Trish, Chris, Melody, Ken and Carl for your supportive, insightful and just plain awesome comments.