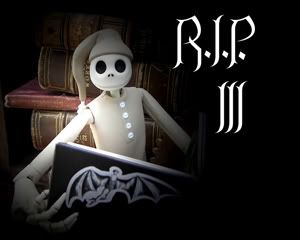 Wow, it feels that only a couple of months ago I was joining R.I.P. II. But no, a whole year has gone by, and it's time for R.I.P III. The goal of this challenge,
hosted by Carl at Stainless Steel Droppings
, is to read eerie, gothic, creepy, dark and atmospheric books between the 1st of September and Halloween.
I'm going to do Peril the First:

Read Four books of any length, from any subgenre of scary stories that you choose.
And instead of following a rigid list, I'm going to pick four books from among these (or, knowing myself, I might end up reading something that's not in this list at all):
The Graveyard Book

by Neil Gaiman

The Historian

by Elizabeth Kostova

The Thirteenth Tale

by Diane Setterfield

A Fine and Private Place

by Peter S. Beagle

The Stress of Her Regard

by Tim Powers

Rebecca

by Daphne du Maurier

Lost Boy Lost Girl

by Peter Straub

Faerie Tale

by Raymond E. Feist

Black Jewels Trilogy

by Anne Bishop

Gormenghast Trilogy

by Mervyn Peake

We Have Always Lived in the Castle

by Shirley Jackson

The Castle of Otranto

by Horace Walpole

The Vampyre

by Tom Holland

Renfield: Slave of Dracula

by Barbara Hambly

Nigthtmares and Fairy Tales

by Serena Valentino

Jamaica Inn

by Daphne du Maurier

Lonely Werewolf Girl

by Martin Millar

Northanger Abbey

by Jane Austen
That's it...a lot to choose from, and it will be hard, because all of these are books I'm really looking forward to reading. I can't wait to see what everyone else is thinking of reading.