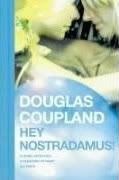 This novel is divided into four sections, each with a different narrator. The first is Cheryl Anway, aged seventeen, who in 1988 is killed in a school shooting in Vancouver. The second narrator is Jason, her highschool sweetheart, who eleven years later is still thought of by most as "the boy who never got over it". The third narrator is Heather, who meets and falls in love with Jason. And finally we have Reg, Jason's severe and estranged father.
I know of quite a few novels about school shootings, but
Hey Nostradamus!
is the first one I've actually read. I imagine that this is a difficult topic to tackle, but this is Douglas Coupland, after all. I had faith that he would be able to handle it well, and I wasn't disappointed. I like how
Hey Nostradamus!
doesn't feign an understanding of this kind of tragedy that probably nobody nowhere actually has. Instead, it just tells the stories of four people whose lives are directly or indirectly affected, if not defined, by what happens.
And actually, I'd hesitate to call this a novel about a school shooting. It starts there, but then it becomes a book about four intertwined lives. A book about four very different people who maybe are not all that different after all. I particularly liked how Coupland ended the book with Reg's narration. Jason portrays him as almost inhuman, and, as we find out, he has good reasons for his resentment. But then we get to hear Reg's side of the story, which makes the book so much more human and touching.
But my favourite of all was Heather's narration.
Her piece of the story was for me the one that best captured the grief, doubt and loneliness that permeate the whole book. Nobody writes about loneliness quite like Douglas Coupland does. I'm probably making this sound like an extremely bleak book, but the interesting thing is that it manages not to be one. It's a book about loss and grief and faith and pain and family and death and life, and in a strange way I can't quite put into words I found it a hopeful book.

While not quite up there with my favourite Coupland novels, I definitely think that

Hey Nostradamus!

is very much worth reading.

Here's a passage I really like:

As I'm never going to be old, I'm glad I never lost my sense of wonder about the world, although I have a hunch it would have happened pretty soon. I loved the world, its beauty and bigness as well as its smallness: the first thirty seconds of the Beatles' "Lovely Rita"; pigeons sitting a fist apart on the light posts entering Stanley Park; huckleberries both bright orange and dusty blue the first week of June; powdered snow down to the middle gondola tower of Grouse Mountain by the third week of every October; grilled-cheese sandwiches and the sound of lovesick crows on the electrical lines each May. The world is a glorious place, and filled with so many unexpected moments that I'd get lumps in my throat, as though I were watching a bride walk down the aisle - moments as eternal and full of love as the lifting of veils, the saying of vows and the moment of the first wedded kiss.

This is actually an example of something I think Douglas Coupland is brilliant at. This is Cheryl speaking, and she says this in the middle of telling a story whose ending we know from the onset will not be a happy one. He has these moments of beauty, of tenderness, of appreciation for life in the middle of tragedy, isolation and bleakness, and because of what surrounds them emotionally, they stand out so much more. And he never overdoes it. It never sounds forced or insincere. It always feels exactly right.



Other Blog Reviews:


Stray Talk
The Written World
Stuff as Dreams are Made On
Ace and Hoser Blook

(Have you reviewed it as well? Let me know and I'll add your link to this list.)


---
Now something that I know will interest many of you: There's a Neil Gaiman prize pack up for grabs at Fashionista Piranha, and it includes an ARC of The Graveyard Book as well as some other cool prizes. To be entered, just leave a comment here before the 20th of August. Read the post for details on how to get extra entries.