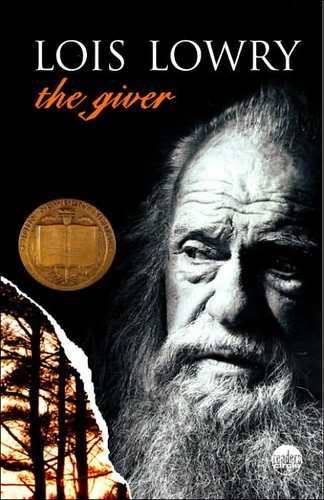 "Well…" Jonas had to stop and think it through. "If everything's the same, then there aren't any choices! I want to wake up in the morning and decide things! A blue tunic, or a red one?"
He looked down at himself, at the colorless fabric of his clothing. "But it's all the same, always."
Then he laughed a little. "I know it's not important, what you hear. It doesn't matter. But—"
"It's the choosing that it's important, isn't it?" The Giver asked him.
Jonas nodded.
This story takes place in a mechanical and shallow futuristic society. This is a society in which every child is assigned an occupation when they turn twelve. Jonas, our protagonist, is assigned as the next Receiver of Memory. He meets The Giver, a man who carries all memories of the past – memories of things that no longer have a place in an ordinary citizen's life. Things like colour, snow, rain, animals, love, war, suffering, hunger, the knowledge of death.
For the next few years, The Giver will pass these memories on to Jonas. The community needs a Receiver of Memory so that they have someone to turn to for advice if they ever come across a situation they haven't dealt with before. At the same time, the existence of someone who carries the burden of memory means that no one else has to feel its weight.
But of course, the loss of these memories is also the loss of so much more. It is only during his training, when Jonas begins to realize what life was once like before the Sameness, that he realizes how much is missing in his community's life. Colour. Feelings. Spontaneity. The ability to make choices. Uniqueness. Diversity.
As Jonas' eyes begin to open, so do the reader's. Lois Lowry initially presents this future society as a happy one, and then slowly uncovers what hides behind that appearance of happiness. I think that this technique makes this story an even more powerful one. The way things are gradually revealed – particularly the meaning of expressions that are recurrently used throughout the story, like "release" – is especially creepy.



The Giver

is a story about the importance of memory, of emotions, of diversity. Of making choices, even if they turn out to be wrong ones. Of suffering, even. Of being allowed to experience life's full emotional range. It's a story about all the things that make us human, and what would happen if they were taken away.

And it's a subtle and intelligent book; a book in which nothing is overstated or over explained. I'm always happy when authors respect their readers' intelligence, but I'm particularly happy when children's authors don't give in to the temptation of making everything much too obvious just because they're writing for children.

I think that most people have read

The Giver

, and so know just how powerful a book it is, and for how long the issues it raises remain in one's mind. If, like me, you've waited this long to discover it, I really recommend that you wait no more.

And to think that I had never heard of

The Giver

– or of Lois Lowry – until I started blogging! Many thanks to everyone who recommended it.



Other Blog Reviews:


…epiphany…
Everyday Reads
Rhinoa's Ramblings
Nothing of Importance
Words by Annie
Valentina's Room
Trish's Reading Nook
Bold Blue Adventure
Becky's Book Reviews
Bookfoolery and Babble
Stephanie's Confessions of a Book-a-holic
Maw Books
Lost in a Good Story
Passion for the Page
The Well-Read Child
So Many Books, So Little Time
Back to Books
One More Chapter
Books.Lists.Life
Stuff as Dreams are Made On
Fuzzy Cricket
Kristina's Favourites

(Have I missed yours? If so, please let me know and I'll add it to this list.)