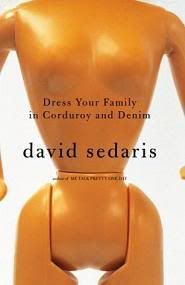 First of all, thank you, internet. I don't think I'd have thought of picking up a book by David Sedaris if I hadn't heard such great things about him from all of you.
Dress Your Family in Corduroy and Denim
is a collection of autobiographical essays (most of which read like short stories, really) about several topics, including growing up in a dysfunctional family, relationships, being gay or dealing with family expectations.
I think it'd be a bit redundant to say just how hilarious David Sedaris is. Those of you who don't know it from experience have probably heard it before. But as hilarious as he is, I think that what I liked the most about this book was the way Sedaris, like my favourite humorists, intertwines tragedy and humour. There's always a serious side to the stories he tells. Most of them are not only funny but also strange, sad, nostalgic or touching.
Some of my favourite essays were "The Ship Shape", a childhood story about disappointment, most specifically the time Sedaris' father almost bought a beach house; "Full House", about how a very young Sedaris managed to keep his homosexuality from being discovered by his peers during a game of strip poker at a sleepover; "Heijira", a short essay about how Sedaris was kicked out of the house by his father due to his homosexuality and only realized that was the actual reason later; "Possession", about looking for an apartment in Paris, and then later, in a visit to Amsterdam, realizing that Anne Frank's house would be the ideal place to live; and "Chicken in the Henhouse", about prejudice against gay men and how some people seem to assume that homosexuality and paedophilia are one and the same thing.

I wish I could share some favourite passages, but I read most of this book at the beach, with no pencil in hand to mark them. So you'll just have to trust me when I say that the writing is excellent. I've heard that some of Sedaris' other books are even more enjoyable than this one, and I can't wait to read them.



Other Blog Reviews:


somewhere i have never travelled
A Striped Armchair
books i done read
Just A (Reading) Fool
(Have I missed yours? Let me know and I'll add it to this list.)