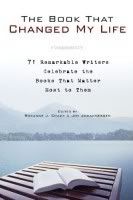 This is a collection of essays by 71 contributors about the book (or books) that had the deepest impact on them. The editors invited contributors from a great variety of backgrounds – fiction and non-fiction writers, historians, scientists, politicians, sportswriters, doctors, literary critics and even a chef. What they all have in common, other than the fact that they all also write, is their passion for books. I wasn't familiar with most of the contributors, some of the exceptions being Alice Hoffman, Amy Bloom, Anita Diamant, Frank McCourt and Sara Nelson.
It was interesting to see so many different perspectives on books and reading. The contributors are indeed all very different, and this gives the book a lot of variety. It also means that most readers will, like me, react very differently to the different essays in the book. Some I really liked, some left me indifferent, and some I disliked.
I think that my absolute favourite was Elizabeth Berg's essay on
The Catcher in the Rye
. She says:
I kept thinking, I didn't know you could do this! I didn't know you could write this way! It was so open. So close to the bone. So conversational. Catcher in the Rye showed me you could write "to" someone you'd never met as if you were talking to someone you'd always known. That you could tell a secret publicly and it would still be a secret privately. That you could reveal the most profound emotions in the simplest of language, that in fact it was more effective to do it like that because then the writer got out of the reader's way. It taught me that the smallest of gestures could reveal all you needed to know about a character. That humour and pain could exist on the page beside each other, if not inside each other.
That simplicity, that poignancy and that sense of intimacy are among the things that make
The Catcher in the Rye
one of my favourite books. Alice Hoffman says something along the same lines:
The plot itself, the journey of one teenage boy, is less important than the emotion and the unique humanity. Reading a book became an act of intimacy.
I also can't resist sharing the first paragraph of Kate Atkinson's essay on Picksongs & Descants by Robert Croover. I haven't read the book, but I identify with this paragraph fully:

I read my way through a solitary childhood. Books were the bedrock of my emotional and intellectual life, books that prescribed no limit to the imagination, books that were full of resourceful girls, princesses and goatherds and Victorian maidens, not to mention the sand fairies, the talking animals, the scheming stepfamilies, and the handsome men who had been transformed into beasts, both real and metaphorical. Fairy tales, in particular, fed my imagination when it was most hungry—so much peril, so many possibilities!
I've never read anything by Kate Atkinson, but now I really want to. Other favourites include Dorothy Allison's essay on The Bluest Eyes and her own experience of rejection, Da Chen's childhood memories of growing up in a small village in China, being perpetually starved for books, and reading

The Count of Monte Cristo

, Anita Diamant's explanation of how Virginia Woolf's A Room of One's Own influenced The Red Tent and Sebastian Junger's thoughts on Bury my Heart at Wounded Knee.

There are 71 essays in this book, but they're all pretty short (about 2 pages on average), so this is quite a fast read. Like I said, I didn't enjoy all of them, and as far as books about books go, I suspect that there are better ones out there. But I still think that

The Book That Changed My Life

is very much worth reading.

One last passage I loved, this time from the introduction by Roxanne J. Coady:

Reading is a way to live more lives, to experience more worlds, to meet people we care about and want to know more about, to understand others and develop a compassion for what they confront and endure. It is a way to learn how to knit or build a house or solve an equation, a way to be moved to laughter and wonder and to learn how to live.
Other Blog Reviews:


The Hidden Side of a Leaf
Age 30 - A Year of Books
Rebecca Reads
(Have I missed yours? Leave me the link and I'll add it to this post.)

Question: What is your favourite book about books? I haven't read all that many, but I can't imagine myself enjoying anything more than

The Polysyllabic Spree

. I'd love to be surprised, though. I'm thinking of compiling a reading list of sorts for next years, so any suggestions would be welcome.