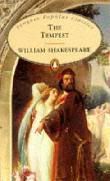 The Tempest
is the story of Prospero and Miranda, a magician and his daughter who are stranded on a Mediterranean island. Prospero, the Duke of Milan, ended up on the island after his brother deposed him and set him and his infant daughter adrift. The island had been previously inhabited by a witch named Sycorax, who had been imprisoned spirits who did not do her biding inside trees. Ariel, one of these spirits, is released by Prospero and becomes his servant. The witch's son, Caliban, is also Prospero's servant.
The story begins when Prospero causes a storm – the tempest of the title – to bring a ship with his brother, the King of Naples and the King's son on board, among others, to the island. According to Prospero's design, Miranda and he prince, Ferdinand, fall in love.
The Tempest
is a great story, full of elements that make it memorable: there's romance, intrigue, fantasy, reconciliations, comedy, and also serious and touching scenes. To get myself familiarized with the plot before reading it, I read retellings by E. Nesbit and Charles and Mary Lamb. It was interesting )but not really surprising) to see that both retellings left out the storyline concerning Caliban and his attempt to overthrow Prospero. Even though this was my first time reading the play, that was probably the part of the story I was the most familiar with.
It probably helps that I've read Marina Warner's novel
Indigo
, a retelling of
The Tempest
that I really recommend. The book has the following structure: it starts with a contemporary story, then goes back in time and retells
The Tempest
with Sycorax as a native woman, Ariel as her daughter and Caliban as a survivor of a wrecked slave ship that she brings up, and then returns to the present time and finished the first story. I have to confess that I didn't much care for the story set in the present time, but I loved the other one enough to still highly recommend the book. This retelling emphasizes the slavery, colonialism and domination themes of the play, so I had those in mind to some extent when reading it now.
Given that this is Shakespeare, it goes without saying that the language was amazing. There were several parts I loved, but none as much as the "
Chris
bit":
Our revels now are ended. These our actors,
As I foretold you, were all spirits, and
Are melted into air, into thin air:
And like the baseless fabric of this vision,
The cloud-capp'd tow'rs, the gorgeous palaces,
The solemn temples, the great globe itself,
Yea, all which it inherit, shall dissolve,
And, like this insubstantial pageant faded,
Leave not a rack behind. We are such stuff
As dreams are made on; and our little life
Is rounded with a sleep.
After reading the play, I couldn't resist revisiting the Sandman story "The Tempest", which is about Shakespeare's writing of the play. Reading it gave me a new way to look at it – as a story about a man who decides to change, to break his staff and burn his magic books, to leave his island, to embrace a new life. For this reason, I think it's brilliant and very fitting that this story closes the tenth Sandman book. I can't explain further without spoiling the end of the Sandman, though, so those of you who haven't read it will have to forgive me for being vague.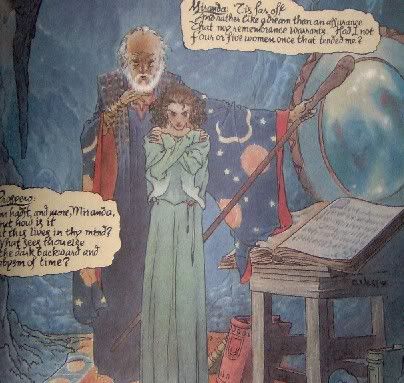 Prospero and Miranda by Charles Vess



Other Blog Reviews:
A Fondness for Reading
Aquatique
(Have you reviewed it as well? Please let me know so I can add your link to this list.)