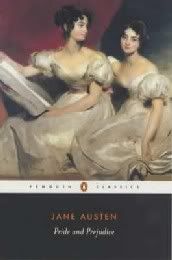 As most of you no doubt know,
Pride and Prejudice
is the story of Elizabeth Bennet and her four sisters. The girls are being pressured by their mother to find husbands as soon as possible, and when a promising bachelor, Mr Bingley, moves to the neighbourhood, Mrs Bennet jumps at the chance to get one of her daughters married. There are financial reasons for her concerns. Because they had no sons, Mr Bennet's estate is entailed to a cousin, the unpleasant and pompous Mr Collins. When the family gets acquainted with Mr Bingley, he immediately takes to Jane, the oldest Miss Bennet. As for his friend Mr Darcy and Elizabeth, well, things take a little longer to develop.
I never quite know what to say when posting about such popular and beloved classics. I suspect that everything that could possibly be said about this book has already been said. Still, here's my take. I not only had never read this book before, but I've never seen a movie or TV adaptation either, so even though I knew how the story began and how it ended, I didn't know much at all about what actually happened in between. And because I've seen the name Mr Darcy being used as synonym for Prince Charming, I was surprised to see how unpleasant he seemed at firs,t and how much Elizabeth disliked him! But of course, that's what makes the story so interesting.
Jane Austen's language is a delight, the characters are all fully believable, the dialogue is perfect, and the novel is so full of memorable little details. I loved all the things that were said about education and about different types of relationships. We have the examples of Jane and Mr Bingley, Lydia and Wickham, Charlotte and Mr Collins, Mr and Mrs Bennet, and of course, Elizabeth and Mr Darcy. I do wish we'd had the chance to see more of their relationship once it starts to develop, though.
I can definitely see why
Pride and Prejudice
is still so appealing almost two centuries later. It was written at a time when women had to have financial concerns in mind when picking husbands, and yet it gives emphasis to the idea that a marriage without affection is not likely to bring anyone happiness. Several of the couples in the story exemplify just that. Socially speaking, they made the perfect match, and yet their lives were very far from perfect.
A question for Jane Austen fans: where do you think I should go next with her? I'm thinking of picking up
Northanger Abbey
. What do you recommend?
Other Blog Reviews:

A Fondness for Reading
Trish's Reading Nook
Books.Lists.Life
So Many Books, So Little Time
You Can Never Have Too Many Books
(a very interesting post about the 1985 adaptation)
Savvy Verse & Wit
Rebecca Reads
5-Squared
Adventures in Reading
Becky's Book Reviews
Devourer of Books
Library Queue
The Bookworm
Fyrefly's Book Blog
(If you've reviewed it as well, please let me know so I can link to your review)