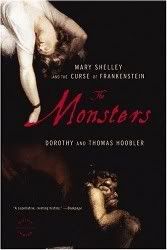 I have always been fascinated by the myth behind the creation of
Frankenstein
. In the summer of 1816, the year when volcanic activity caused unusual storms and even snow in July, Lord Byron and his guests – Mary Shelley, Percy Bysshe Shelley, Claire Clairmont and John Polidori – had been reading German ghost stories. Byron then challenged them to write their own ghost story, and the result was
Frankenstein
and Polidori's "The Vampyre", a tale that introduced the idea of the aristocratic vampire – an idea we can find in Stoker's Dracula and Anne Rice's Lestat.
The fact that all of the men involved in the contest were to die in the next few years gave rise to talk about the "curse of Frankenstein". Mary and Claire, the survivors, also met with misfortune, losing not only lovers but also children. I don't believe in curses, nor do I think that these deaths had anything to do with the ghost story challenge, but it does make for an interesting story, doesn't it? That, plus the fact that I have an interest in this time period, and in Mary Shelley in particular, made me pick this book up. Last week, at
Ken's
recommendation, I also read Anne K. Mellor's
Mary Shelley: Her Life, Her Fiction, Her Monsters
, and since I have not yet written about it, I'm going to take the lazy way out and turn this into a sort of two in one post.
The Monsters: Mary Shelley and the Curse of Frankenstein
traces the lives of the five people involved in the ghost story contest, and it also devotes a reasonable amount of attention to William Godwin and Mary Wollstonecraft, Mary Shelley's parents. The book had everything to be good, but unfortunately it turned out to be a huge disappointment.
Subtly at first, and not so subtly as the book advances, the authors invite us to join them while they tut-tut these foolish, immoral – indeed monstrous – people. This constant tone of disapproval gave the book a gossipy feel that I didn't appreciate at all. I do believe that the authors are entitled to their opinions, and I agree that these people made some choices that most would find questionable. But I wish the authors would have been so kind as to let the readers make up their own minds. What irritated me the most was the fact that they seemed completely and utterly unaware that their constant derogatory comments could alienate some readers, that maybe some of us would be interested in a more neutral approach. It's as though they believe that any decent, proper human being would forcefully be passing the same judgements they were passing.
I will now give some examples of things that annoyed me. If it sounds as though I'm being picky, bear in mind that as I read on and became increasingly annoyed I picked on things I probably would have ignored otherwise.
In one of the earlier chapters, when discussing Mary Wollstonecraft, they accuse her of being insatiable and wanting to "have it all" for daring to defy convention and yet expecting to be treated with respect. It doesn't take much to see that the whole point of her work was that women deserved to be treated with respect however they chose to live their lives. And indeed the authors are aware of that, as they had just summarized her work a few pages before.

This is said about Mary Shelley: "Mary started to interpreted and deal with real-life events from what she read. In her mind, fiction, fable, life and experience became intertwined, a condition that would continue throughout her life." I seem to suffer from the same "condition". Fortunately, it hasn't proved too serious thus far.

Percy Shelley is portrayed as someone who doesn't really care about any social causes, but rather just engages in whatever form of activism is fashionable that day of the week – a portrayal that seems to me simplistic and unfair.

Another quote: "Morals in Regency society were nonexistent, as long as one managed to be discreet." Whatever period of history you're writing about, it's perhaps not very wise to say that back then morals were nonexistent.

Another thing: There is no place called "Terre de Belém". It's "Torre". It means "tower". There is also no "Medeira Wine". It's "Madeira". It's the name of an island, and also a word meaning "wood". This is where I most fear sounding overly picky, and it's not that these misspellings offended me. It's that they annoyed me, and they annoyed me because they're a sign of sloppiness and carelessness. If the authors didn't even bother to check the spelling of the foreign words they were going to use in their books what else did they not bother to check? How reliable are they? Can I trust them? Indeed, a few chapters later Mary's age is given as "not yet twenty-four" when she started writing

Frankenstein,

which is a bit vague and very much misleading. The following chapter gives her correct age – eighteen.

Two other things that bothered me were the fact that vegetarianism seems to be listed among Shelley's moral flaws (at one point it is said that what he needed was to "eat some pork chops" - I'm not even a vegetarian, but I found this rather tasteless) and the homophobic undertones with which Byron's bisexuality is discussed.

But the book isn't all bad. It's hard to write a boring book about this time period, and

The Monsters

is very gripping despite its flaws. It's well written, and it also seems well researched enough – the authors cite from several primary sources such as journals and letters. Telling the facts apart from their own interpretations, judgemental comments and, worse of all, attempts at humour, was an easy task. So despite everything, the book was informative and entertaining. But I'd much rather have read a book about this time period and this group of people without the constant superior, cheapening and mocking tone. It really sounds as though the authors only chose to write about this group of people to congratulate themselves for their own moral superiority

A neat bit of trivia that I learned: Polidori's sister was the mother of Dante Gabriel and Christina Rossetti. I never knew.

Anne K. Mellor's book is completely different. It definitely does not have the same moralizing tone. Although I disagreed with some of the psychological interpretations that were made of facts and events, I never felt that I was being manipulated into an opinion. The book is part biography and part literary criticism. The first few chapters recount Mary Shelley's life (and indeed there were quite a few echoes of these chapters in

The Monsters

), and the latter deal in detail with all of her work. This book left me absolutely resolved to read her post-apocalyptic novel

The Last Man

– which was the first of its kind.

The only thing about this book is that you need to be very interested in Mary Shelley's work to enjoy it. For example, I'm not particularly fond of Shelley's poetry, with a few exceptions, but I find his life interesting enough to read about. Perhaps some readers will feel the same way about Mary Shelley, and in that case, this is not the book I'd recommend you pick up. It's more about her work than about her life or about the early nineteenth century in general.

I decided I'm going to use

The Monsters

to replace

Medieval Death: Ritual and Representation

by Paul Binski on my Non-Fiction Five list. I don't feel like reading it now, and it's a library book and I won't have access to the library again until mid-September. If I do feel like reading it then, I'll have two weeks to read it in, and I have the feeling that this is the kind of book best enjoyed slowly. So I'd rather not pressure myself. I always feel like I'm cheating when I make a replacement on my challenge lists, but I know that this is just my brain playing tricks on me, so I'll tell it to quit it now.



Other Blog Reviews:


Real Reads (

The Monsters

)
Book Mama (

The Monsters

)
(Have you reviewed any of these two books? Let me know and I'll add a link to your review)