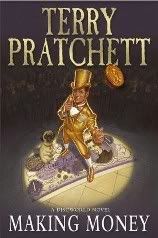 Moist Von Lipwig is back. After the events of
Going Postal
, he achieved the kind of peaceful contentment most men dream of. But Moist is not like most men. Routine doesn't agree with him, and he finds himself seeking danger once again. He's offered an opportunity to bring excitement back into his life when he's given the chance to take a position at one of Ankh-Morpork's largest banks, and thus reinvigorate the city's financial system. At first Moist hesitates, but when he becomes the guardian of one Mr Fusspot, the new four-legged chairman of the bank, he ceases to have a choice in the matter. It's time for Moist to make some money.
One of the things
Making Money
is about is Ankh-Morpork's transition to the fiat currency – a monetary system in which circulating money is not backed up by any specific commodity (in this case gold), but has the value society assigns it. And as customary with whatever subject he chooses to tackle, Terry Pratchett makes economics more interesting than I ever thought they could possibly be. The main reason for this is the fact that he approaches it from a very human angle.
Making Money
is about people, about how the economy affects their lives, about how they get used to change and react to things, and about the possible reasons why.
I am in awe of how many intelligent, wise, insightful, perceptive and interesting characters Terry Pratchett has created. Granny Weatherwax. Tiffany Aching. Granny Aching. Vimes, in his own way. Even Lord Vetinari, who I love more with each new book. And now Moist. It goes without saying that only someone absolutely brilliant could have come up with one of them, let alone all.
What I love about all these characters is that they understand how people work. And yet they don't place themselves above others. Allow me to explain. The renowned Ankh-Morpork mob, for example, is not quite a mob – not in a dismissive or derogatory way. It's rather a collection of people who think and feel, and yes, are influenced by the circumstances and by one another, and the way they are portrayed is satirical, but also so human. Moist Von Lipwig likes crowds. And he likes crowds not because he finds them sluggish and brainless and easily manipulated but because he actually likes people and enjoys understanding how they work. And this is the reason why he actually gets people to follow him with such ease.
There's a scene in
Making Money
in which Moist goes out to test the first of the new paper money that perfectly illustrates the point I am clumsily trying to make. Hopefully those of you who are familiar with Discworld will know what I mean, and those of you who aren't will be curious enough to want to find out.
Another thing I love about Discworld, and about
Making Money
in particular, is that there are no villains in the traditional sense of the word. In
Making Monkey
, we get to see Cosimo Lavish's mind from the inside. Its workings, and the way it cracks, inspire pity above anything else. Again, and forgive me for repeating myself, he is portrayed so humanly.

I enjoyed

Making Money

even more than

Going Postal

. The books were actually more closely connected than I thought they would be, so I'd really recommend reading

Going Postal

before this one.

Making Money

had the elements that made

Going Postal

work so well plus a few extra ones. I was thrilled to see more of Adora Belle Dearheart and the Golem Trust. Have I mentioned how much I love Discworld Golems?

I also love Moist. I hope we get to see him raising taxes.



Other Blog Reviews:


Framed and Booked
Books & Other Thoughts
Magical and Colloquial

(Got any more? Let me know and I'll add your link to this list)

---

It's Buy a Friend a Book Week again, and tanabata is giving two lucky winners the chance to pick a book from a very appealing list. To be entered, leave her a comment here until Saturday.