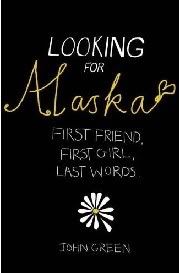 Miles Halter, a lonely sixteen-year-old with a tendency to memorize famous people's last words, leaves his home in Florida for what he calls the "Great Perhaps": a boarding school in Alabama. There, he manages to make friends for the first time in his life. He befriends his roommate, known as "The Colonel", another boy named Tukami, and Alaska Young – beautiful, intelligent, mysterious, bookwormish, fascinating Alaska Young.
This book is divided into two sections, "x days before" and "x days after", so from the onset you know that something big and life-changing is going to happen. This gives the story an urgent, ominous tone. And as you can imagine, the last thing I want to do is give away what it is that happens, and that limits what I can say about the book. I suppose that after one point in the story you can more or less see it coming, but still, I'm not going to say it, so forgive my vagueness.
While the first part of the book is a built-up, the second shows how the characters, especially Miles, deal with the event. The way everything was handled was absolutely perfect.
Looking for Alaska
is about loneliness, friendship, longing, loss, love and life. The writing style is simple, but still full of achingly beautiful passages. I just love this description of longing and attraction:
Her underwear, her jeans, the comforter, my corduroys and my boxers between us, I thought. Five layers, and yet I felt it, the nervous warmth of touching – a pale reflection of the fireworks of one mouth on another, but a reflection nonetheless. And in the almostness of the moment, I cared at least enough. I wasn't sure whether I liked her, and doubted whether I could trust her, but I cared at least enough to try to find out. Her on my bed, wide green eyes staring down at me. The enduring mystery of her sly, almost smirking, smile. Five layers between us.
John Green put me in mind of Jeffrey Eugenides with his ability to write about sexuality with delicacy, beauty and emotion. In fact, there was something about this book that reminded me a little of
The Virgin Suicides
.
Looking for Alaska
is definitely one of my favourite reads of the year so far. It's one of those books that manage to bring me back to my teens. It's so difficult to accurately capture how important and big and defining things feel at that time of one's life. Because sometimes looking back, when you remember the facts but don't have access to the feelings, things can appear less important than they actually were. This book – like Christopher Barzak's
One for Sorrow
, for example – manages to perfectly capture the way things feel for teens.
But this is the before that I'm talking about. Then there's the after. And I really wish there was more I could say.
I can say this: Like Douglas Coupland's

Life After God

, this is a book in which the narrator ultimately reaches a conclusion about life that is very different from my own. And yet in both cases I never ceased to feel incredibly close to the narrators and to their stories. Both were books that moved me tremendously because they reminded me of what being human is all about, of how much we all actually have in common. I felt emotionally close to Miles to the very end, even though my own solution, my own way out of the labyrinth, is a different one. Because ultimately what matters is that we are all in the labyrinth.

And by now you must be thinking, "Why does she keep going on about labyrinths?". There are reoccurring references to

The General and his Labyrinth

by Gabriel Garcia Marquez, one of Alaska's favourite books (she also likes Kurt Vonnegut! She and Miles read bits of

Cat's Cradle

together), in the novel. Unfortunately, I can't explain what exactly this is all about without giving too much away.



Looking for Alaska

is beautiful, humorous, tragic, moving, warm, thought-provoking and intense. I can't recommend it enough. I read it in a single sitting - and granted, I was on a plane and there wasn't much else to do, but I had woken up at 3am and was dying for a nap, yet I couldn't even think of taking one until I was done with the book. I really couldn't put it down. I guess this means it would make a perfect Read-a-thon read.



Other Blog Reviews:


The Hidden Side of a Leaf
Eva at Curledup.com
Becky's Book Reviews
Tiny Little Reading Room
Not Enough Bookshelves
Stuff as Dreams are Made On
Bart's Bookshelf
The Bluestocking Society
Out of the Blue
Em's Bookshelf
Books.Lists.Life
Sassymonkey Reads
Books & Other Thoughts
Nothing of Importance
Book Addiction
Care's Online Bookclub
where troubles melt like lemon drops
Valentina's Room
Book Gazing
Flight Into Fantasy
Stella Matutina
In Spring it is the Dawn
Melody's Reading Corner

(Have you reviewed it as well? Let me know and I'll add a link to your review.)