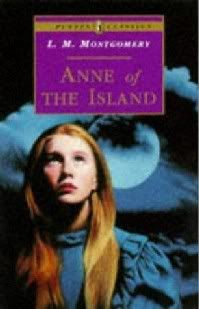 The third book in this series starts with Anne Shirley, aged eighteen, about to leave Avonela to get het BA at Redmond. Anne has mixed feelings about her departure, but after a spell of homesickness her high spirits return, and she quickly makes new friends and begins to enjoy her new life.
Although
Anne of the Island
is mostly set outside of Avonela, we do get to see Anne's old friends along with the new ones. Some of these old friends get married, leave Avonlea, and even meet tragic ends. This book was every bit as delightful as the first two, but it was also somewhat bittersweet. In
Anne of Avonlea
, she was a teacher, but there was still a lot of the child of the first book in her. But now Anne is no longer a child. And while growing up is certainly not a bad thing, there's a certain sense of loss that comes with it, a certain nostalgia for the things that are left behind and can never be recovered. Here's a passage that I think captures this feeling well:
Anne laughed and sighed. She felt very old and mature and wise – which showed how young she was. She told herself she longed greatly to go back to those dear merry days when life was seen through a rosy mist of hope and illusion, and possessed and indefinable something that had passed away forever. Where was it now – the glory and the dream?
Anne's world expands with each new book, and I like how their titles reflect that. In
Anne of the Island
she grows into a charming young woman. It was nice to see her go out into the world, continue to grow as a person, make new friends, and fall in love. And yet every now and then Anne sighs for the childhood world she knows she had to leave behind, and we sigh along with her.
The book ends with Anne, aged twenty-two, on the verge of a new change. I look forward to discovering what else life has in store for her.
Other Blog Reviews:

Here, There and Everywhere
BiblioHistoria
Pink Bag of Books
Blue Archipelago
(Have you reviewed it as well? Let me know and I'll add your link.)