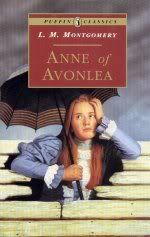 A direct follow-up to
Anne of Green Gables
,
Anne of Avonlea
accompanies Anne Shirley from ages 16 to 18. Anne is teaching at the Avonlea school, and she is also keeping herself busy with the Avonlea Improvement Society. The Anne we find in this book is a quieter and more introspective Anne, but still a believer in the power of the imagination, still idealistic, still a lover of natural beauty, still earnest and genuine, still on the look out for kindred spirits, and still as loveable as before.
I was delighted to see that despite Anne's losses and disappointments, her ability to be passionate and enthusiastic, to put all of herself in everything she does, remained intact:
'It seems to me, Anne, that you are never going to outgrow your fashion of setting your heart so on things and then crashing down into despair because you don't get them.'
'I know I'm too much inclined that way,' agreed Anne ruefully. 'When I think something nice is going to happen I seem to fly right up on the wings of anticipation; and then the first thing I realize, I drop down to earth with a thud. But really, Marilla, the flying part is glorious as long as it lasts…it's like soaring through a sunset. I think it almost pays for the thud."
It was great to see more of characters from
Anne of Green Gables
such as Marilla, Mrs Lynde, Diana or Gilbert. It was also great to be introduced to some lovely new ones such as Mr Harrison, Paul Irving, Davy, and especially my favourite, Miss Lavender:
'But, Anne, a broken heart in real life isn't half as dreadful as it is in books. It's a good deal like a bad tooth…though you won't think that a very romantic simile. It takes spells of aching and gives you a sleepless night now and then, but between times it lets you enjoy life and dreams and echoes and peanut candy as if it were nothing the matter with it. And now you're looking disappointed. You don't think I'm half as interesting a person as you did five minutes ago when you believed I was the prey of a tragic memory bravely hidden under external smiles. That's the worse…or the best…of real life, Anne. It won't let you be miserable. It keeps trying…and succeeding…even when you're determined to be unhappy and romantic. Isn't this candy scrumptious?'
A lot of the plot concerns events related to these new characters. The way some things turned out was predictable, but I don't mean this in a bad way. Another thing I loved was how well Montgomery managed to convey the passing of time. This book covers two years, and yet it's not very long. Still, at the end I had the feeling that Anne and her friends had gone a very long way. Perhaps this has to do with all the character development you see in the story.



Anne of Avonlea

is as warn and gripping as the first book. It ends with Anne facing further changes, and I can't wait to see where life will take her next.

This was my second and final read for Mrs S' A Hundred Years of Anne Mini-Challenge. I have a copy of

Anne of the Island

and I really do feel like reading it soon, but because of my upcoming trip it's not likely that I'll get to it this month. I will return to Anne with much pleasure in September, though. Thank you, Mrs. S, for a lovely mini-challenge.

Other Blog Reviews:
Blue Archipelago
Pink Bag of Books
For the Love of Reading
Books and Musings from Downunder
A Reader's Journal
Epiphany
Thoughts of Joy

(If you've reviewed it as well, let me know and I'll add your link to this list)

---

J. Kaye is giving away a copy of John Lawson's

Witch Ember

as well as the follow-up,

The Raven

.

Witch Ember

is a book I read and really enjoyed earlier this year. The deadline to enter the giveaway is tomorrow! I meant to blog about this sooner, but stuff got in the way. Anyway, to be entered hurry up and leave a comment here.