(Yes, I stole the title
from Trish
. But it's true, too.)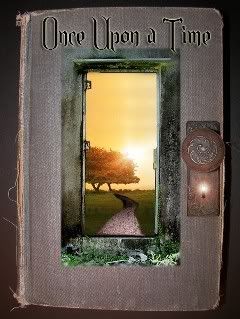 The first is the
Once Upon A Time Challenge
. I managed to complete my original list (with one substitution, though) and slip in some extras.

Books Read:
Extras:My favourites were Shannon Hale's Bayern Trilogy,

Zel

,

Tigerheart

,

The Ice Queen,

The Ladies of Grace Adieu

,

Tales from Watership Down

and

Mirror Mirror on the Wall

. My least favourite was very definitely

The Helmet of Horror

. New authors discovered include Alice Hoffman, Anne Sexton, Eudora Welty, John Lawson, Donna Jo Napoli, C.J. Cherryh, and last but definitely not least, Shannon Hale. I plan on reading them all again. (Victor Pelvin was new to me too, but I'm not exactly inclined to read more of his books.) Like last year, I had a great time with this challenge. Thank you, Carl!




The second is the Themed Reading Challenge. The theme I picked for this challenge was WWII.

Books Read:Each and every one of these books was, in its way, a powerful and memorable read. I'm not sure if I could rank them, but I think that perhaps the one that had a greatest impact on me was

Maus

. All of the authors were new to me, and I'd definitely like to continue to read them. Thank you for this great challenge, Wendy.

---
Look what I got in the mail today!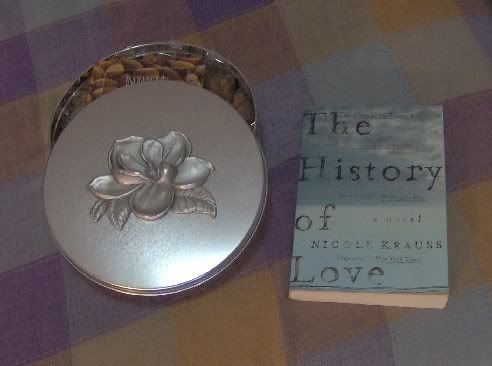 Pecans! In a pretty box! And a new book! Courtesy of Maggie and Bethany, the lovely hostesses of the Southern and Orbis Terrarum Challenges. Thank you so much! These packages totally made my day.

And since he was so popular last time, I thought I'd share another picture of my cat, this time awake. Well, half-awake. He was about to doze off again.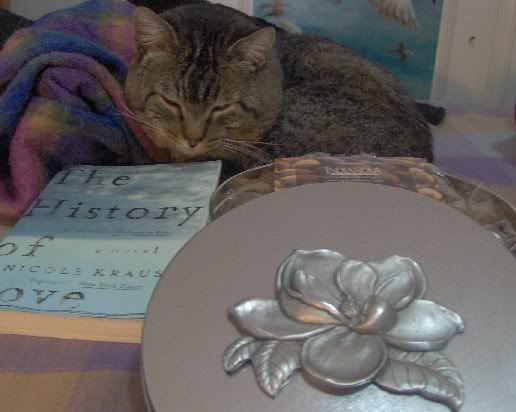 ---
I know a lot of you might have seen this, since Neil Gaiman linked to it, but I have to mention it anyway: Here's him interviewing Terry Pratchett. It's a great interview, even with the odd little edits and rewrites.

I love them both to bits. And I'm SO excited about

Nation

. If someone kidnapped me and pointed a gun to my head and said I was absolutely forced to choose which one I'm looking forward to the most,

The Graveyard Book

or

Nation

, I think I'd burst crying, because I

really

wouldn't be able to choose.

Anyway. It really is a great interview. Neil sums up why I love Terry so much very well: because he's "a genuine satirist, willing to tackle real issues - war and prejudice and what it means to be human." Yes. What it means to be human. He also points out all the reasons why I don't recommend that new Discworld readers start with

The Colour of Magic

.

Go read the interview. You know you want to.