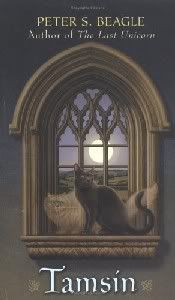 Jenny Gluckstein, our narrator, is nineteen years old, but only thirteen at the time the story she is telling begins. Jenny had lived all her life in New York with her mother Sally and a black cat aptly named Mister Cat. Her life took a turn when her mother's English boyfriend, Evan, proposed, and Jenny found herself transported from New York to a farm in Dorset, England, with a new stepfather and two new stepbrothers to get to know.
The Dorset farm Jenny's new family moves into is in dire need of recovery work, and so is the manor house where they are to live. The first few months in England are hard for Jenny. In addition to all the changes she has to face, there's the fact that Mister Cat has to be quarantined for six months. And as much as she and her family work on recovering the house, some things don't seem to
want
to get fixed. There are, of course, rumours that the house is haunted, and Jenny and her family are soon given good reasons to believe that they are not its only inhabitants.
One day, after Mister Cat's return, Jenny wakes up with not one but two cats landing on her bed. One is Mister Cat, the other is a blue grey Persian ghost cat. She follows the cats and discovers a secret room where the ghost of Tamsin Willoughby, a girl who died three hundred years before, awaits her. And so begins a wonderful story full of ghosts, folklore, a deep sense of history, friendship and growing pains.
You know, I didn't think it'd be possible, but I find myself agreeing with
Chris
. I think I enjoyed
Tamsin
even more than Peter Beagle's
The Last Unicorn
. I could barely put this book down. I loved the fact that it was so full of everyday details – it was a bit like Pamela Dean's
Tam Lin
in that way. The fantasy elements are subtle, almost invisible at first. You get to know the characters and to truly care about them. When the book was over, I was sad that I wasn't going to get to spend time with them anymore.


Another immediate reason to love this book is Mister Cat, who not only has an awesome name but has to be one of the coolest fictional cats I've ever encountered. Peter Beagle captured the cat-owning (or the being owned by a cat) experience perfectly. The cuddling, the claws, the moods, the sulks, the "prrp?": it's all here.

The story is full of elements of British folklore – ghost, Pookas, Billy Blinds, Boggarts and the Wild Hunt, just to name a few. It's also deliciously atmospheric:

My Jenny, I will never see your own land, yet well I know night's as dark there as in Dorset. And night is not ours, and never will be, not till all is night. I tell you it will not, Jenny—never any more ours than the sea, for all we plow and harrow up that darkness. What yet swims in the deepest deep, I'm sure none can say—and not even the Pooka knows all that may move beyond the light.
It's full of Dorset history too: I got to learn about Judge Jeffrey and the Bloody Assizes, a particularly gruesome bit of history that I hadn't come across before.



Tamsin

is at times a heart-warming story, and at times a haunting one. This has got to be one of the creepiest descriptions

ever

:

The best way I can put it is that the presence of him rustled like his voice, like an attic full of old dead bugs: the empty husks of flies in ragged spiderwebs, still bobbing against the window—the beetles and grasshoppers that froze to death winters ago—the dusty rinds of little nameless things stirring on the floor in a draft, crunching underfoot wherever you step.
I shudderd again typing that up. But lest you get the wrong impression, that is the creepiest passage in the entire book, and the general tone is much milder than that.

Tamsin

is a ghost story, but not quite the scary type. More the "I can't put this book down because I really care about these characters and I want to know what will happen to them next" type. I couldn't have loved it more.

Other Blog Reviews:
Stuff as Dreams are Made On
Never Jam Today
Books to the Sky
A Stripped Armchair
Epiphany
Read Warbler
Rhinoa's Ramblings
Tip of the Iceberg
Geranium Cat's Bookshelf
You Can Never Have Too Many Books