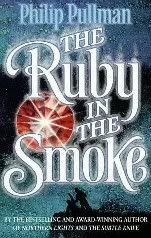 The year is 1872. Sally Lockhart, a sixteen-year-old girl, receives a letter telling her that her father was drowned in the South China Sea. Having no other family – her mother died when she was a baby – she is forced to go and live with a relative, Mrs Reeds, who treats her like a nuisance. But then Sally receives another letter, or rather, the fragment of one, that seems to imply that her father's death was no accident and that she might be in danger herself. The letter tells her to beware something called "The Seven Blessings." Sally begins to investigate, and the events that ensue force her to leave Mrs Reeds' house and fend for herself. But how is a young girl to do so in Victorian society?
The Ruby in the Smoke
is in some ways a cosy Victorian mystery, but it's also more than that. The plot itself was interesting, but not exactly remarkable as far as mysteries go. I guess the book wasn't detailed enough for the suspense to truly build up. Things were revelled just when I was beginning to wonder about them. The characters, however, kept me glued to the story.
I really liked Sally herself, and I liked the many friends she makes along the way. From the very start we are told that Sally had an unusual education. She wasn't taught what were then considered proper feminine subjects, but rather business management skills, horse ridding, shooting, etc. I liked how Pullman used Sally and another character, Rosa, to take a look at gender roles and the place of women in Victorian society.
Rosa is another young woman whose circumstances forced her to learn to fend for herself, and she did so in what many consider a scandalous and immoral way – she became an actress. At one point, Sally has a conversation with Rosa and tells her that she often feels inadequate and ashamed of herself for not being a "proper" young woman. And Rosa tells her that they both know deep down that they are doing nothing wrong, so there's no reason to be ashamed. This might sound obvious enough, but at the time, considering all the social pressures they had to face, it was a courageous stance to take.
Another scene I really liked: when Sally realizes, after spending her first evening at Rosa and her brother Frederick's house, that what was so odd about everything that's happened was that for the first time in her life she was being treated like a person, and not just like a girl.

But back to the mystery: there might not have been as much suspense as one would expected, but there was danger and lots of atmosphere, with menacing villains, opium dens and foggy alleys. The more the story advances, the more personal it becomes, and this is especially clear by the end of the book.

The Ruby in the Smoke

is a story about friendship and family and independence and being yourself.

I have, however, two complaints. The first is that at the start of a chapter the narrator says this about Sally:

But she was, as Mr Temple had said, a very unusual young lady. Her upbringing had given her an independence of mind that made her more like a girl of today than one of her own time.
This is true enough, but for me it was like a flashing neon sign saying "suspension of disbelief ends here". I have nothing against narrators calling attention to the fictional nature of their story. There are many books I love that do that, and do it very well indeed. But this one isolated reference felt extremely awkward to me, probably because up until that point the fact that this was that kind of narrator had not been established. And for the rest of the book it never happened again. There was just that one reference to the world outside the story, and it felt put of place.

The second thing was the fact that at one point, when Sally and some of the other characters are in hiding, they do something that would very obviously give their location away to anyone looking for them (and they were indeed being looked for). When they did it, I just couldn't believe they would let themselves get caught in such a stupid way. But then they didn't get caught, and I honestly don't know what I would have preferred – doubting the characters' intelligence of being forced to doubt the story as a whole.

But anyway, qualms and plot holes aside, I really did enjoy this book a lot. It's not perfect, and it's by no means Philip Pullman at his best, but it's a very a good read and it makes me want to continue with the series. I want to spend more times with the characters, and I want to see if the next book answers some questions that were left hanging. So

The Shadow in the North

, here I come.

Other Opinions:
Jenny's Books
Mari Reads
Angieville
Fyrefly's Book Blog

(Have you reviewed this as well? Let me know and I'll link to your post.)