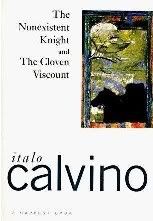 This story takes place (mostly) in France, during the time of Charlemagne. Among the emperor's army there is a knight who does not exist. That's right – Agiluf, the best warrior in Charlemagne's army, is nothing but an empty white suit of armour filled with a very strong will.
The Nonexistent Knight
follows his adventures and misadventures through medieval France, Scotland, England and Morocco. Along the way he meets the Knights of the Holy Grail, a determined female warrior, a loony squire, and a young man seeking to avenge his father's death, among others.
This tale is narrated by a nun whose connection with the events in question is only revealed in the very last chapter. While telling the story, she shares with the reader her musings on writing and on her secluded life.
Decidedly playful in tone,
The Nonexistent Knight
is full of absurd moments that almost read like Monty Python and the Holy Grail. A fun, engaging and fast read.
In case you're wondering about
The Cloven Viscount
: my edition didn't have the two novellas (I couldn't find the right cover online), but, since I read it in my pre-blogging days, I thought I'd share my thoughts on it too.


I think enjoyed

The Cloven Viscount

more than

The Nonexistent Knight

. It's the story of a Viscount who, when hit by a canon ball in battle, is neatly divided into two halves: one entirely good, the other completely bad. When the two halves return home, chaos ensues, and the events that follow eventually lead to a duel between the Viscount's good and bad sides.

Also playful in tone,

The Cloven Viscount

is nonetheless a little darker than

The Nonexistent Knight

, and it manages to be both thoughtful and fun.

And since I'm at it: these two novellas, together with

The Baron in the Trees,

form a trilogy of sorts. They all tell different stories about different characters, but they are related in themes and in tone.

The Baron in the Trees

is my favourite of the three. It's actually my favourite book by Calvino so far. Set in the eighteenth century, it tells the story of Cosimo, a young Italian nobleman who one day climbs a tree and decides that he is never setting foot on the ground again. He doesn't, and still manages to live a very interesting life. A fable, a fantasy, a love story and an adventure, this was a book I couldn't put down.

All three of Italo Calvino's historical fantasies are books I very much recommend.


---

Does anyone know of a (good) historical novel that retells the lives of the English Romantics, preferably the Shelleys or Byron? The only one I know of is Passion by Jude Morgan, but I'm sure there should be lots more. This is a time period and a subject that just screams "write about me" and I bet a lot of writes have. Anything dealing with Keats would be good too. So if anyone has any suggestions they'll be most welcome. Thanks!