Debi
tagged me for the
Summer Goals Meme
. I will be travelling for a good part of this summer, but I do have some reading goals. I wouldn't quite feel like myself if I weren't already planning which books to pack. After all, there will be quiet evenings, rainy days, and two twelve hour plane trips.
But first things first: before leaving, I'm hoping to read one or possibly two books for
Trish's Classics Challenge
.
Pride and Prejudice
and
Lady Chatterley's Lover
are the most likely candidates. Can I handle two classics during the first week of July? We'll see.
I'm also hoping to be able to finally read Shakespeare's
The Tempest
for
Annie's What's in a Name Challenge
before leaving.
As for the books I plan on taking with me, they all have in common the fact that they're short. Long books don't work very well when I have limited time to read. Plus I want to feel like I'm actually finishing things. Here's the list of candidates:
Strangers

by Taichi Yamada

The Zigzag Way

by Anita Desai

Hey Nostradamus

by Douglas Coupland

The Road

by Cormac McCarthy

Pedro Paramo

by Juan Rulfo
Pay the Piper by Jane Yolen and Adam Stemple

Looking for Alaska

by John Green


Death: At Death's Door

by Jill Thompson

Fables: Storybook Love

by Bill Willingham

Fables: March of the Wooden Soldiers

by Bill Willingham

Spawn: Angela

by Neil Gaiman

The League of Extraordinary Gentlemen Vol. 1

by Alan Moore

My Invented Country

by Isabel Allende (I actually wanted to take at least one more non-fiction, but I'm out of ideas. Something short and gripping would be perfect. Suggestions? Maybe one of Michael Palin's travel books?)
Most of these are challenge books. The comics are extras for the
Graphic Novels Challenge
. Officially I've finished, but I plan to keep on reading comics, so I'll count them for the challenge. Many are for the
Orbis Terrarum Challenge
. If I manage to read
The Non-Existent Knight
(short, but a library book, so I can't take it) and
The Famished Road
(a chunkster) before I go, I may actually finish the challenge during the summer!
Books aside, I just want to have a good time, make the most of it, and see monkeys and
coatis
again. What about you? Any reading or just general goals for this summer?
---

Next: a Meme-ish game-ish sort of thing I came up with when I should have been doing Productive Things. Let's call it the

Blogger-Book-Keyword Meme

. The rules:

Pick 5 blogging friends (it can be more if you'd like);
For each of them, think of a book that reminds you of them, or that you think they'd like;
Explain in 3 to 5 keywords or short phrases why you think they'd enjoy the book, or why it reminded you of them;
If you know for sure that the person has read the book in question, then pick another, but if you're not quite sure, go ahead and use it anyway;
If you have reviewed the books in question, you can link to your reviews;
Tagging others is not necessary, but feel free to do so.
This is not meant to be a challenge, so the goal is not to get the people in question to read those books, but to perhaps add to one another's wishlists some more (because we don't do

nearly

enough of that), to see how we perceive one another's tastes, and to have some fun. So here it goes:

There. I've never come up with a meme before. If you all think that this is the silliest Meme/Game you have ever seen, feel free to tell me so :P But if not, and if you have the time, I'd really love it if you played along. And please do let me know if you do so.


---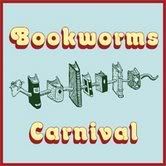 Last reminder: tomorrow is the deadline for submitting your post for the 12th Bookworms Carnival! So if you plan on doing so, now's the time :P P

lease e-mail your link to untuneric at gmail dot com.





---

And finally, I am doing something I almost never do: I'm putting two books aside. Two good books at that. The first is Gene Wolfe's

The Knight

, which I started reading yesterday to complete the Once Upon a Time Challenge. I'm replacing it with Susanna Clarke's

The Ladies of Grace Adieu

.

The reason? Well, it's a good book. I'm sure that it is a good book. I've read a few chapters and so far I'm very impressed with Wolfe's use of language. It's simply beautiful. Yet for some reason I can't make myself feel at home in the story right now. I'd probably be able to make it happen if I forced myself, but I don't think that would be fair on me or on the book. I've been a bit restless, and this is a chunky book, plus there's the fact that I've been told that it's a good idea to read the sequel,

The Wizard

, right after. I don't think I'd be able to do that right now. In late June I won't have all that much time to read, plus there's my trip in July. So later this year I'll go back to

The Knight

and

The Wizard

and give them the attention they deserve.

The second book I'm abandoning for the time being is

The Complete Fairy Tales of the Brothers Grimm

. Yes, I still love fairy tales. But I've read 300 pages in the last 2 months, which leaves me with about 500 left to go. I've been enjoying the book a lot so far, but fairy tales do work better in small doses for me. The way it's been doing it is: I read 50 pages in a day and then I don't pick the book up at all for a week or two. There's no way I'll finish before July, so I'll return to the forests of the Brothers Grimm after the summer.