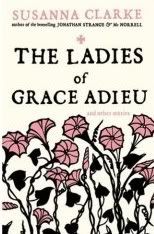 The Ladies of Grace Adieu
is a collection of eight short stories. Two of these stories are set in the world of
Jonathan Strange & Mr. Norrell
, and one is set in the world of Neil Gaiman's
Stardus
t. There is one that is a retelling of "Tom Tit Tot", one about Mary Queen of Scots, and one about the friendship between a Jewish doctor and a fairy. All of them are utterly, utterly lovely.
Those who have read
Jonathan Strange & Mr. Norrell
will be familiar with Susanna Clarke's Austean writing style. What I love about her stories is that they are delightful, yes – but dangerous as well. They are daring and dark, and they feel old in an unsettling sort of way. She writes about people being spirited away to a faerie world that has more darkness and decay than glamour. She writes about young ladies dancing to fairy music until their feet bleed. She writes about people being transported from their beds to obscure towns to build bridges in the middle of the night. She writes about dangerous magic with unpredictable results.
The result is a collection of wonderful stories that are told in the elaborate language of Victorian fairy tales but are nevertheless not sugary in the least. Susanna Clarke's stories read like old folklore. They take us back to a time when Faerie and its inhabitants were dangerous, were feared. These are, we are told, "most emphatically not the sort of fairy Arthur Conan Doyle and Charles Dogson hoped to find at the bottom of their gardens."
A few words now on some of my favourite stories: the story set in the world of
Stardust
is "The Duke of Wellington Misplaces His Horse", and it was the only story in this collection that I was already familiar with. Since I wrote about it
here
last year, I will just add that it was a pleasure to revisit it.
"On Lickerish Hill" is a retelling of
"Tom Tit Tot"
, an English fairy tale similar to Rumpelstiltskin. It's written in Olde Englishe, and it's told in a way that, for me, never allowed this storytelling device to become overdone. A taste:
"A Pharisee?" sayz Mr. Aubrey. "What doe you meane, child?"
"They live on Lickerish Hill," sayz I, "Or under it. I doe not know which. They pinche dairymaides blacke and blewe. Other times they sweepe the floor, drinke the creame and leave silver pennies in shoes. They putte on white cappes, crie Horse and Hattock, flie through the aire on Bitts of Strawe – generally to the Kinge of France's wine-cellar where they drinke the wine out of silver cups and then off to see a wicked man hanged – which person they may save if they have a minde to it."
I've seen others mention that the spelling got on their nerves , and while I can see how that could happen, for me the story ended at just the right moment, and so it never got to be too much.

"The Ladies of Grace Adieu" is one of the stories set in the world of

Jonathan Strange & Mr Norrell

. The ladies of the title are Mrs Field, Miss Tobias and Miss Pabringer, and in this story they meet the famous magician Jonathan Strange. Those who have read

Jonathan Strange & Mr. Norrell

might remember how Jonathan Strange was eager to have his clergy brother-in-law moved from Glocestershire. This story explains why, while also alerting one to the dangers of dismissing female magic.

"Mrs Mabb" is probably my favourite story in the collection. It recounts how a young lady, Miss Venetia Moore, saves her beloved Captain Fox from the clutches of the queen of Faerie by following the rules of that strange land to fight back, even while the whole town doubts her sanity.

"Mr Simonelli or The Fairy Widower", told through extracts from the journals of Mr Simonelli, tells us how he met a certain John Hollyshoes in Derbyshire, an odd character whose true nature the reader quickly guesses. This, however, does not put an end to the surprises this story holds.

"Tom Brightwind or How the Fairy Bridge was Built at Thoresby" is the story about the friendship between a fairy, Tom Brightwind, and a Jewish doctor, and it's complete with delicious Jonathan Strange & Mr Norrellish footnotes.

I think I'll stop here, but I could go on. I enjoyed each and every one of these stories. This book made me want to read

Jonathan Strange & Mr Norrell

, all 800 pages of it, all over again.

One last thing: as if everything I've said so far wasn't enough, the book's charm is considerably increased (yes, such a thing is possible) by Charles Vess' gorgeous illustrations. A must have.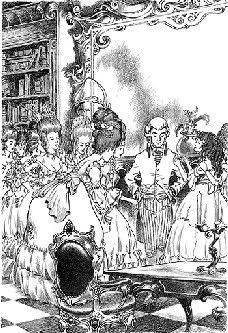 At Susanna Clarke's website, you can read the whole of "The Duke of Wellington Misplaces His Horse" and get a taste of "John Uskglass", the other story set in the world of Jonathan Strange & Mr Norrell. As you might have guessed, this is a story about the Raven King.



Other Blog Reviews:


Quixotic
Stainless Steel Droppings
Stuff to Read
Once Upon a Bookshelf
A Stripped Armchair
Stuff as Dreams Are Made On
where troubles melt like lemon drops

(Let me know if I missed yours.)