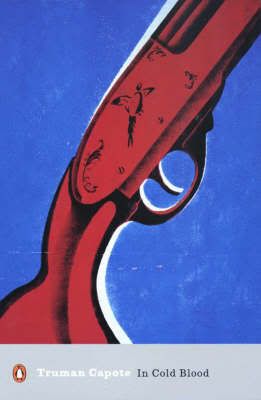 In Cold Blood: A True Account of a Multiple Murder and its Consequences
is a non-fiction novel about a quadruple murder in Holcomb, a small town in Kansas. On the 15th of November 1959, Richard Hickock and Perry Smith broke into the house of Herbert Clutter, a well-off farmer, and murdered him, his wife Bonnie, his sixteen-year-old daughter Nancy and his fifteen-year-old son Kenyon.
In Cold Blood
begins by introducing the reader to the victims while they are still very much alive and completely unaware that a day that began like any other day would end up being their last. This approach makes us feel the impact of the crimes much more intensely than we would have otherwise. Then it recounts the events from the points of view of the murderers, of those who discovered the bodies (including Nancy Clutter's best friend) and of the investigators responsible for solving the crime.
The reader knows all along who the murderers are, and also that they will eventually get caught, and yet the book still manages to be suspenseful. Tom Wolfe famously said the following:
"The book is neither a who-done-it nor a will-they-be-caught, since the answers to both questions are known from the outset ... Instead, the book's suspense is based largely on a totally new idea in detective stories: the promise of gory details, and the withholding of them until the end."
I'm not quite sure if I agree, though. It wasn't the promise of gory details that kept me going. I didn't so much want to know how they'd done it, but
why
they'd done it. I wanted a motivation, a purpose. Because it wouldn't be a satisfying story without one.
And that's the thing, really. Life is not always a satisfying story. And I wonder if Capote realized that the fact that the story of these senseless murders wasn't satisfying gave him room to turn it into one. The book worked in an unexpected way for me. When the killers are finally caught, the whole town, the investigators and the reader experience a feeling of anticlimax:
"The majority of Holcomb's population, having lived for seven weeks amid unwholesome rumours, general mistrust, and suspicion, appeared to be disappointed at being told that the murderer was not someone among themselves. Indeed, a sizeable faction refused to accept the fact that two unknown men, two thieving strangers, were solely responsible."

"Sorrow and profound fatigue are at the heart of Dewey's silence. It has been his ambition to learn 'exactly what had happened in that house that night'. Twice now he'd been told (…) But the confessions, though they answered questions of how and why, failed to satisfy his sense of meaningful design. The crime was a psychological accident, virtually an impersonal act; the victims might as well have been killed by lightening."
Yet despite this meaninglessness, or because of it, the story gains shape. There's still no purpose, no real resolution, nothing that quite makes sense. But by providing psychological details, by narrating things in an insightful and detailed but very well-paced manner, Capote builds something where there was nothing.

Before reading this book, I somehow had the impression that it portrayed the killers in a much more sympathetic and redeeming manner than it actually does. What it does is show us the killers in a human way, because after all, and as much as we'd like to deny it, the finger that pulls the trigger belongs to a real person, and not to some sort of inhuman monster. Capote portrays the criminals as two real people. He doesn't glorify them, but he shows us that they thought and planned and feared and dreamt and felt, just like we all do.

The book, of course, also raises some interesting questions about capital punishment, both in the case of Dick and Perry and of some other prisoners they meet in the death row (which include a young man who killed his whole family). I might as well say that capital punishment is something I'm wholeheartedly against, but this is not why I'm saying the book raises interesting question. Capote doesn't lecture in one direction or another. But this book will give everyone, regardless of their position on the issue, something to think about.

Another important issue addressed in

In Cold Blood

is the effect of a violent crime in a small community. He shows how it generates a sort of fear and distrust that are almost obsessive, as if they were proportional to the trust with which the townspeople regarded each other before it happened.

"At the time, not a soul in sleeping Holcomb heard them – four shotgun blasts that, all told, ended six human lives. But afterwards the townspeople, theretofore sufficiently unfearful of each other to seldom trouble to lock their doors, found fantasy re-creating them over and again – those sombre explosions that stimulated fires of mistrust in the glare of which many old neighbours viewed each other strangely, and as strangers."
I now understand why

In Cold Blood

is called a non-fiction novel. Within the framework of the facts, Capote recreates inaccessible details, like the emotions and motivations of those involved. The result is a real story told with all the emotional power of the best fiction.

Truman Capote is one of my favourite authors, and yet it took me this long to get to his most well-known book.

In Cold Blood

is certainly a worthwhile read. It's disturbing, touching and thought-provoking in equal measures. And it's very well written – not with the same sort of stunning prose you find in

The Grass Harp

and especially in his short stories, but then this is a different sort of book. I'm glad to have read it at least.



Other Blog Reviews:


The Inside Cover
A Bookworm's Reviews
The Book Tiger
Feel That?
Maggie Reads
In Spring it is the Dawn
The Inside Cover
Trish's Reading Nook

(Have you also posted about this book? Let me know and I'll add your link to this list)