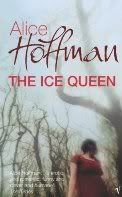 The Ice Queen
begins when its unnamed protagonist is a little girl. Upset because her mother is leaving her at home with her brother while she goes out to celebrate her 30th birthday among friends, she makes a wish: that she never comes back. Because of this wish, she blames herself for the accident that takes her mother's life. She and her brother are raised by their grandmother, and she grows up and becomes a librarian. Her existence resembles Kay's in Hans Christian Andersen's "The Snow Queen": Cold, still, and devoid of feelings.
After their grandmother's death, her brother convinces her to move to Florida, where he lives with his wife. It is there that, after another reckless wish, the unnamed protagonist is hit by lightening. She survives, and meets other survivors, including Lazarus Jones, a man who is said to have returned to life after being dead for forty minutes. She finds herself drawn to Lazarus, and begins to experience emotions she never thought she could feel again.
What first drew me to this beautiful and atmospheric tale was its mood of subtle eeriness; the same sort of mood I
wrote about
sort of recently in my post about Jonathan Carroll's
Voice of Our Shadow
. I suppose that
The Ice Queen
could be called a realistic story, but from the very start there are signs that fairy tale logic is at work. There are several fairy tale elements in the story – more noticeably, from "The Snow Queen" and from the myth/fairy tale "Eros and Psyche". There are also references to several other fairy tales, including "Godfather Death" and "The Boy Who Went Forth to Learn What Fear Was". And there are several passages that reveal that our heroine is someone who is very familiar with fairy tales. This was something that immediately made me feel at home in this book:
You had to do the thing you were most afraid of, didn't you? In every fairy tale the right way was the difficult path, the one that led over bounders, through brambles, across a field of fire.

But the logic of fairy tales was that there was no logic: bad things happen to the innocent, children were set out in the woods by their parents, fear walked hand in hand with experience, a wish spoken aloud could make it so.
Plus there are some comparisons between the Grimms' and Andersen's fairy tales that made me smile (I am a Grimms' girl at heart, but Andersen, despite some elements of what could be called righteousness, always did have a strong grip on my imagination):

It was a Thursday afternoon, and as I worked I couldn't help but overhear the preschool reading group. Frances was reading Andersen's "Everything in Its Right Place", in which the pious heroine is nothing like the Goose Girl in the Grimm's tale. There were no heads nailed to the wall in this story. No cases of mistaken identity that weren't easily rectified. A few mothers eyed me. I supposed there might be toddlers who continued to have nightmares from my time in control of story hour. No wonder their mothers wanted me kept at a distance. If I spoke, anything at all might drop from my lips: blood, frogs, death wishes, desire.
A little over halfway through the book there is a shift in the story, and this strange and sensual tale becomes an immensely sad and touching one. The shift is not abrupt, though. It fits the story perfectly. And the ending was just beautiful and it increased my appreciation for this book more than I thought possible.

This was my first experience with Alice Hoffman, and I definitely want to read more of her work. I know there are some fans of hers out there – which book do you recommend that I pick up next?



Other Blog Reviews:


Rhinoa's Ramblings
Out of the Blue
The Gaol House Blog
A Bookaholic's Review
The Bookworm
Blue Archipelago
Trish's Reading Nook
Life and Times of a 'New' New Yorker
A Fondness for Reading
Serendipity