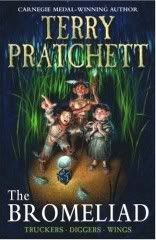 The Bromeliad
is a trilogy of short novels –
Truckers,
Digger
and
Wings
– about a race of little nomes that at the start of the story live under the floorboards of a department store. Well, that's not quite how it starts.
Truckers
starts with a group of nomes who lives in the outside world coming into the Store. When Masklin, Grimma, Granny Morkie old Torrit and the others meet the Store nomes, their very existence is doubted. Why? Because over generations, the Store nomes had ceased to believe that there even was an outside world:
Arnold Bros (est. 1905) created the Store.

At least, that was the belief of thousands of nomes that for many generations had lived under the floorboards of Arnold Bros (est. 1905), an old and respected department store.

The Store had become their world. A world with a roof and walls. Wind and Rain were ancient legends. So were Day and Night. Now there were sprinkler systems and air conditioners, and their small crowded lives ticked to the clock of Opening Time and Closing Time. The seasons of their year were January Sales, Spring Into Spring Fashions, Summer Bargains and Christmas Fayre.
It turns out that the Store nomes have to come to terms with the idea that there is an outside world pretty quickly, because the Store – the only world they and their ancestors have ever known – is going to be demolished in three weeks.
In
Truckers
, we follow them until they leave the Store, and
Diggers
and
Wings
tell us what happens next. They recount simultaneous events from the perspective of different characters.
Diggers
is about what happens when humans try to reopen the quarry where the nomes have been living ever since they left the Store.
Wings
follows Masklin, Angalo and Gurder all the way to Florida in an attempt to help all nomes return to their original home.
Remember how some time ago I confessed my habit of hugging books I really, really love? Well, I hugged
The Bromeliad.
More than once, in fact. I don't even know where to begin to explain why I found these books so brilliant, but here's my best shot.
I think I'll start by explaining the title. Bromeliads are a type of plants. Pineapples, for example, are bromeliads. In the bromeliad family there is a type of flower that grows attached to trees in tropical forests. Pools of water are trapped inside these flowers, and there are certain types of tree frogs that are born, reproduce and die inside the flowers. They live their whole lives without ever becoming aware that there is a world outside the flowers, or even that there are other flowers with other frogs. The particular flower they happen to be born in is their whole universe.
The Bromeliad
is a fast-paced and hilarious trilogy. It's not only hilarious, but insightful, moving, and wise. It's a story about how easy it is to become set in one's ways, to forget that other ways of living and thinking and seeing the world are not only possible, but may just be as sensible and reasonable as our own. It's about how easy it is to live in our own little worlds and to forget that the universe is big and awe-inspiring; to forget, or never discover, how good it is to know things, and to want to know even more things after that. It's about how learning things change us, how reading opens up our world; it's about the human imagination and just why we need it so desperately.




The Bromeliad

reminded me a little of H.G. Wells' remarkable short story "The Country of the Blind", a story about a mountaineer who discovers a valley in South America where blind men have been living for so many generations that the ability to see has become the stuff of myth. And of course, none of the inhabitants of the valley actually believe that the lost mountaineer possesses a sense that they lack.

It's a brilliant trilogy, as entertaining as it is insightful and thought-provoking. This is a particular combination that Terry Pratchett has mastered better than anyone. I often think that he's at his best when writing children's books, which makes me extra excited for

Nation

.

I like how at one point in the story Masklin suggests that maybe humans feel lonely as the only sentient species, and that's why they tell stories about little people and green men coming from outer space. The last book,

Wings

, ends with a scene that I found very touching – the earth seen from afar, looking very much like a bromeliad flower.

I think that from now on, when someone asks me for a good Terry Pratchett book to start with, I'm going to say

The Bromeliad

.



Other Blog Reviews:


Everyday Reads

A Fort Made of Books
Books and Other Thoughts (

Truckers

)
Some Reads (

Truckers

)
Sue's Book Reviews (

Truckers

)
Sue's Book Reviews (

Diggers

)
Everyday Reads
(Got any more? Let me know and I'll link to them)