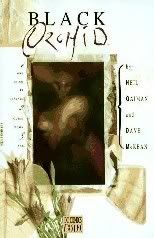 Black Orchid is the nickname of an artificially created half plant half woman who fights crime in Gotham City. At the very start of the book, her true identity is discovered just as she is on the verge of finding out who the leader of a large criminal organization is. But unlike most super heroes, she doesn't manage to escape her captors at the last minute. She gets killed.
At the same time, one of her sisters, another woman-plant, reaches maturity and gains consciousness. She has some of the memories of her creator, a woman named Susan Linden, but she is confused about exactly who or what she is.
I have to confess that I'm not very well-read in superhero comics. Most of my knowledge of them is indirect – it comes from movies or T.V. series. I like how they have their own mythology, or rather, are a form of mythology. And I know, or think I know, that some of them follow certain conventions. When in the first few pages of this book we watch the heroine, after whom the book is named, being murdered, we know right away that these conventions are not going to be followed. We know that we are dealing with a different sort of story.
Black Orchid
is in many ways a quest for identity. Our heroine, the second plant woman, travels around gathering clues that will help her sort out who she is and what she wants to do. In the process, she meets Batman, Poison Ivy and Swamp Thing (I really want to read the Alan Moore series), and has to watch out for Lex Luthor, who wants to dissect and study her. There were possibly other references to well-known comic book characters or places that I didn't pick up.

Just like it is about identity,

Black Orchid

is also very much about choices: choices about how to respond to violence, choices about how to deal with others, choices about where to be, what to do, how to live. This is a story that contradicts one's expectations in even more ways than those that are immediately noticeable.

Mikal Gilmore, who wrote the introduction, included the following Neil Gaiman quote in it: "I think that tales of myth and horror are probably the easiest and most effective way to talk about the real world. It's like they are lies that tell the truth about our lives."

I think so too, and

Black Orchid

is yet another book that shows how well this can be done. I'll leave you with some of Dave McKean's gorgeous art: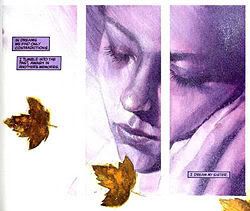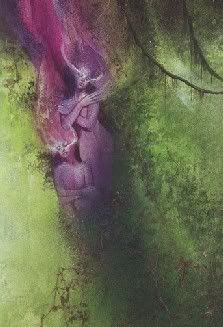 Other Blog Reviews:


Rhinoa's Ramblings
Skillcrane's Longbox

(Have you reviewed it as well? Let me know and I'll add your link to this list)