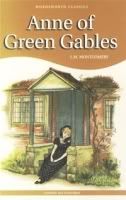 Anne Shirley, an 11-year-old redheaded and freckled orphan, comes to Green Gables, a farm in Avonlea, Prince Edward Island, when Matthew and Marilla Cuthbert decide to send to an orphanage for a boy to help them around. But as you no doubt have noticed, Anne is not a boy. At first, Marilla is determined to send her back, but Anne's impulsive enthusiasm, unique way of thinking and seeing the world and constant talk of scope of imagination (or constant talk, period) quickly win her heart, just like they won her brother's on the journey back to Green Gables.
The rest of Avonlea is initially Properly Horrified with Matthew and Marilla's decision, and horror tales about orphans who set their benefactor's houses on fire are told. But Anne quickly grows on them too, and pretty soon no one is capable of imagining Avonela without her.
Anne of Green Gables
follows Anne's life and education from ages 11 to 16.
I'm not going to say that I'm the last person on earth to read this book, because whenever that is said there are usually half a dozen people who say they haven't read the book yet either – and a great deal of the time, I'm one of them. I knew
Anne of Green Gables
was a popular book, but I had no idea what to expect. All I knew about the story was that the protagonist was a redheaded orphan. I had vague but fond childhood memories of watching the animated series. I was curious about this book because any book that is still so popular after a hundred years will peak my interest. Yet somehow I didn't expect to love it so much.
Anne Shirley is simply irresistible. I loved her enthusiasm and her earnestness, her curiosity and intelligence, her sensitivity. I loved how genuine and kind she is. And I loved her life philosophy:
"Isn't it splendid to think of all the things there are to find out about? It just makes me glad to be alive – it's such an interesting world. It wouldn't be half so interesting if we knew all about everything, would it? There'd be no scope for imagination then, would there?"

"'Oh, Marilla, looking forward to things is half the pleasure of them,' exclaimed Anne. 'You mayn't get the things themselves; but nothing can prevent you from having the fun of looking forward to them. Mrs Lynde says, "Blessed are those who expected nothing for they shall not be disappointed." But I think it would be worse to expected nothing than to be disappointed."
The passages and others made me want to shout "yes!". Anne and I are kindred spirits.

The humorous tone of the book drew me in right away. It's such a warm story, so full of hope and love, so full of characters you grow to care about. Another thing I loved about Anne was how she brings out the best in people and changes those around her for the better. And Montgomery describes this process without ever letting the story become exaggerated or sentimental.

There's so much I could say about this book. Another thing I loved were all the nature descriptions, the different seasons, Anne's awareness of the world.

Anne of Green Gables

makes Prince Edward Island sound like one of the prettiest place on earth.

And just one more thing: to me, this book felt timeless. It was easy to forget that the story was set a hundred years ago.

Anne of Avonlea

, here I come. (Hopefully in time for Mrs. S Anne Mini-Challenge!)



Other Blog Reviews:


Becky's Book Reviews
So Many Precious Books, So Little Time
Quixotic
Aquatique
The Hidden Side of a Leaf
Read Warbler
Books.Lists.Life
Here, There and Everywhere
Bookfoolery and Babble
The Bluestocking Society
Peeking Between the Pages
Regular Ruminations
And much more at Blogging Anne of Green Gables

(Got any more? Please let me know and I'll add your link to this list.)